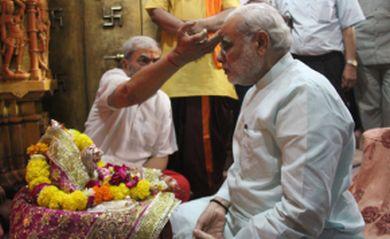 Election time forces candidates, friends and family to seek divine intervention.
BJP supporters may claim a Narendra Modi wave and the Congress may reject that boast, while the Aam Aadmi Party talks of a wind in its favour, but no one is leaving anything to chance.
Politicians, contestants and their supporters are busy with round-the-clock havans, yagnas and temple visits to seek divine intervention.
Namo's bro Sombhai was recently spotted at the Baghlamukhi temple in Nalkheda, a small town in Madhya Pradesh.
Sombhai dubbed his visit 'personal', making it clear it was not sanctioned by the Pradhan Mantri wannabe.
Rajasthan Chief Minister Vasundhara Raje Scindia too was seen at a temple. accompanying son Dushyant Singh, who is contesting from Jhalawar.
Congress folk are not lagging behind, either. Round-the-clock yagnas are said to be on in Mathura, Tirupati, Ujjain, Guruvayur and other temples to boost the party's otherwise dim prospects.
Laloo Prasad Yadav, who was known to have a good laugh at rituals, has also turned devout. He recently ordered filling up a small water body in his home after some soothsayer claimed it could bring him good fortune.
Image: Narendra Modi offers puja at the Ambaji temple, Gujarat, in April 2013. Photograph courtesy: narendramodi.in
Today, Sheela said: How Modi can change the BJP
Friday's Gupshup: All ain't well with Haryana's first family