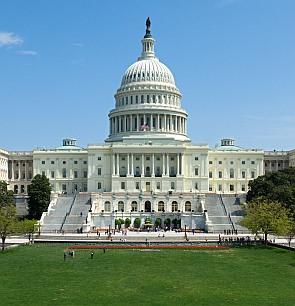 A host of United States lawmakers attended an event on Capitol Hill on Friday to hail India's election and the Bharatiya Janata Party's landslide victory, and to also invite Narendra Modi to Washington to discuss issues ranging from counter-terrorism to bilateral economic cooperation and investment.
The event, titled US-India: The Road Ahead, was hosted by the US-India Political Action Committee.
Congressman Ed Royce, Republican chairman of the House Foreign Affairs Committee, said he had spoken to BJP President Rajnath Singh immediately after the election, and invited Modi to visit the US.

Royce also recalled his meeting with Modi during the aftermath of the devastating earthquake in Gujarat in 2001.
Royce said, 'The resiliency and to see the transformation there from what happened in that quake is I think a comment on the people of India.'
The Foreign Affairs Committee looked forward to Modi's visit, Royce said, 'because there are many issues I want to talk to him again.'
One critical issue he would like to discuss with Modi, Royce said, would be 'counter- terrorism cooperation, which I think is absolutely vital... Another is what we can do mutually in order to improving economic growth and cooperation.'
Royce said he just 'couldn't understand why there is 7-8 times (more) US investment in China than India, and yet... the returns on investment is better in India.'
He exhorted, 'We need to put India on the map for trade and investment.'
'We have watched the growth rate of Gujarat over the last few years average over 10 percent every year, and now we have a new opportunity in India to see a new government and to see some of the challenges that we all hope are addressed,' he said.

'With a clear majority, there is now a mandate for changes to address pro-growth economic policies, and having watched what happened in Gujarat, we now have that opportunity to see that play out.'
Eliot Engel, the ranking Democrat on the Foreign Affairs Committee, declared, 'The world can learn a lesson from what our friends in India did — the peaceful transition that is occurring in India now is an example for the entire international community... When you look at India and Pakistan in the past 67 years after Partition, India has had a vibrant democracy and Pakistan has had one coup after another. So, they must be doing something right in India and that something right is democracy.'
Congressman Joe Crowley, vice chair of the Democratic Caucus in the US House of Representatives and the co-chair of the Congressional Caucus on India, said, 'The road ahead is a brand new road in many respects for India and the United States. We marvel at this wonderful experiment of democracy in India. The largest democratic election ever held in the world -- free and open election ever held in the world -- and we just marvel at how it's done.