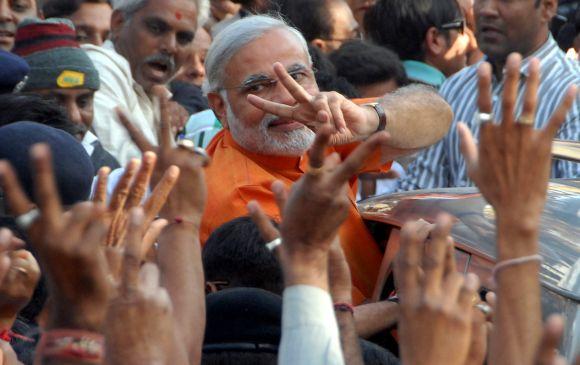 'Indians go to vote next week -- the world's oldest democracy should both celebrate and perhaps analyse this event and its implications.'
Dr S Jaishankar, India's ambassador to the US, offers prescriptions for India-US ties. Rediff.com's Aziz Haniffa listens in.
The last thing India-US ties need this year is more negative attacks and censure, warns India's Ambassador to the United States Dr Subrahmanyam Jaishankar, kicking off a Capitol Hill conference on India's general election and why they matter to the United States.
Dr Jaishankar, who has not shied away from taking head on some of the stinging criticism by America Inc and the United States Congress, and also a cross-section of pundits and policy wonks in Washington, DC think-tanks argued that "Recent experiences underlie that we not only need to tend carefully to our ties, but ensure that smaller problems do not vitiate the larger atmosphere."
"The last thing our ties need this year are more negative exchanges between Washington and Delhi," the ambassador told a conference jointly co-sponsored by the US Senate India Caucus, the House Congressional Caucus on India and Indian Americans, and the US-India Business Council.
He was referring to the major diplomatic spat over the arrest, strip and cavity search of Indian diplomat Dr Devyani Khobragade and the spate of attacks on India for a laundry list of alleged indiscretions vis-a-vis bilateral trade, from violations of intellectual property to local content requirements.
At the outset, Dr Jaishankar lauded the sponsors for organising the conference saying, "It is eminently appropriate as 815 million Indians go to vote next week that the world's oldest democracy should both celebrate and perhaps analyse this event and its implications."
"Among the key debates in the forthcoming elections is addressing the growing challenges facing the Indian economy, especially its implications for employment creation," he pointed out.
"It is reasonable to expect that any government assuming office will grapple with this important issue," Dr Jaishankar acknowledged and added, "There are also related problems of modernising India's infrastructure and accelerating skills development."
"Like any other society," he said, "the Indian public is equally concerned about ensuring the safety and security of its homeland."
"It is only to be expected that we seek a stable and favorable external environment that would promote national development," Dr Jaishankar added.
Addressing the audience which included members of Congress, their senior aides, representatives of US business and industry and Indian-American community leaders, the ambassador said, "Each of these objectives have a clear implication for Indo-US cooperation."
"There is no doubt at all in my mind that after the elections, we should expect considerable activity on the relationship, which would keep both Ron (Somers, President, US-India Business Council) and me occupied," he said.
Then asking "how best can we prepare for this moment," he answered, "Obviously by doing our homework, but also by testing our creativity to come up with new ideas and initiatives for the consideration of those who would be assuming office soon."
"In ensuring a climate to take our ties forward," the ammbasador felt, "We have a range of options -- the most conservative would be to continued as we have in the last few months, focusing on our narrow grievances, thereby missing the woods for the trees."
Or, he noted, "we could be betting on the relationship growing more stronger, looking at the larger picture and the prospects of an upswing in India."
Image: Narendra Modi, the Bharatiya Janata Party's candidate for prime minister.