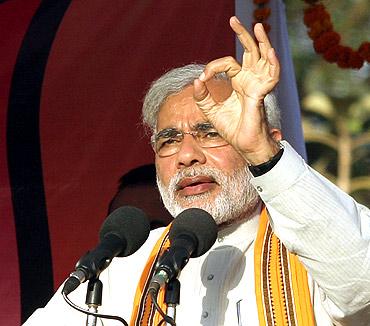 The head of a religious mutt in Varanasi has slammed Bharatiya Janata Party and its prime ministerial candidate Narendra Modi for using the temple town to further their political ambitions.
Sant Das Acharya, head of the Kabirchaura mutt, the most sacred place for all devotees of Sant Kabir, criticised Modi saying he did not reflect the composite culture of the temple town, Varanasi. He also slammed Modi for trying to paint Varanasi as a centre of Hindu religion and said the current political discourse may have a long-term impact on the city's soul and identity. "It is very unfortunate for people of Varanasi (that Modi is contesting from here). He is divisive. Modi does not reflect the composite culture of the sacred town," he said.
Complete Coverage: Election 2014
Significantly, two key Hindu religious leaders -- Puri Shankaracharya Swami Adhokshjanand Devtirath and Dwarka Shankaracharya Swami Swaroopanand Saraswati -- have also come out against the BJP leader contesting from Varanasi.
Terming Varanasi a confluence of various religious beliefs and symbol of India's core values, Acharya accused Modi and BJP of trying to exploit electoral gain by taking a 'narrow view' of the city that it was a nerve centre of Hindu tradition. "It is a nerve centre of various religions, traditions and ideologies. Kabir had made the city a centre of Indian civilisation. Buddha had come here 2,500 years ago. It is an important place for people belonging to Jain faith," Acharya added.
Fearing the party will vitiate the peace in the area, he further added, "They (BJP) will disturb the Hindu-Muslim unity. An artificial wave for him (Modi) is being created. I will not explain, but it is well known how it is being done. How people are being bought over," Acharya said.
The religious leader said if people of Varanasi have not understood the 'misinterpretation' of the city's values, then it will be unfortunate for the whole city. "The place reflects India's core values of pluralism, tolerance and intellectual thinking. The current political discourse may have a long-term impact on the city. If people here have not understood the threat, then it is a misfortune for the city," he said.
Acharya said the incumbent Member of Parliament Murli Manohar Joshi did not do any work for the city during the last five years. "If one of BJP's tallest leaders did nothing for city, then how can we expect Modi to do something."
The religious chief also justified his political observation saying, "We are saints, but at the same time we cannot remain oblivious to important issues facing the country. We are not inclined towards or associated with any political party."
Devotees chimed in that they feared the high-pitch electoral battle was also affecting the atmosphere in the area. "Varanasi has a unique identity. Everybody must try to protect that. The politicians should not be allowed to exploit the city for their benefit," said a devotee.
In the past few days, the area has witnessed several clashes between Aam Aadmi Party workers and BJP workers. Last week, AAP leader and former Delhi minister Somnath Bharti was also assaulted allegedly by a group of BJP supporters.