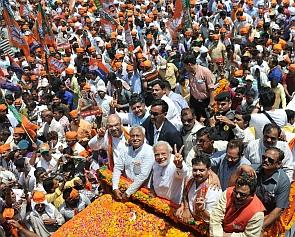 The Aam Aadmi Party on Saturday alleged that about Rs 6 crore were spent on the roadshow of Bharatiya Janata Party's prime ministerial candidate Narendra Modi in Varanasi and demanded from the district election authorities to register a first information report for violation of the model code of conduct.
"Modi came here by chopper to file his nomination. As per estimates of his expenditure on chopper, on people brought from different places to participate in his roadshow, and on hoardings along with materials distributed like caps, sarees, T-shirts, diaries etc it amounts to Rs 5.75 crore," AAP leader Sanjay Singh rpt Sanjay Singh alleged.

Special Coverage: Election 2014

The AAP has written a letter to the district election officer and sent a copy to the Uttar Pradesh chief election officer and Election Commission to probe the matter and take appropriate action and register FIR. He said that the roadshow was gross violation of the model code of conduct.
Singh also showed a saree box with photograph of Narendra Modi and 'Modi Lao, Desh Bachao' written on it and the address on the box mentioned Surat, as a proof of their allegations.

Image: BJP's PM candidate Narendra Modi and his aide Amit Shah show the victory sign during the roadshow in Varanasi