Leading think tank discusses a likely Narendra Modi government and America's engagement with the man US once scorned. Aziz Haniffa reports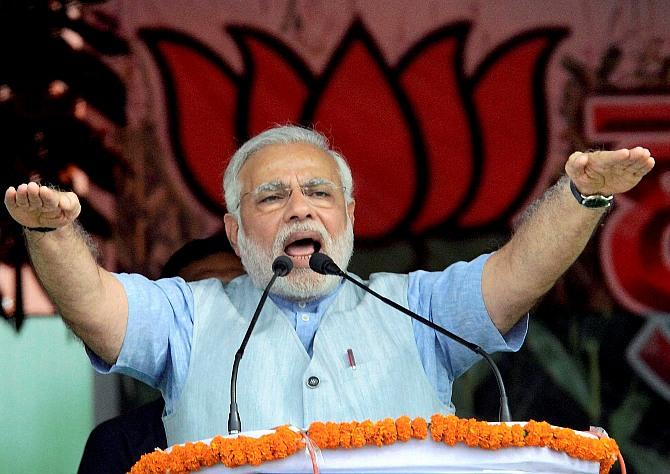 Since Narendra Modi is not obligated to anybody, including his party, he would do to the Bharatiya Janata Party 'what Indira Gandhi did to the Congress,' an Indian American expert has predicted.
At a continuing series of discussions on India Decides 2014: Assessing the Election and Beyond organised by the Carnegie Endowment for International Peace, Devesh Kapur, director of Centre for Advanced Study of India, University of Pennsylvania, noted that more than any Indian PM or PM candidate, Modi was beholden to almost no one except himself -- not to his party; not even to the Rashtriya Swayamsevak Sangh, which in fact doesn't like him, but is 'making virtue out of necessary;' not to civil society, not to the NGOs, and not in even to business, which 'sees him as the best hope and not the other way around.'

'He's in my opinion, in many, many ways, an outsider -- a complete outsider and it's been very well established,' Kapur said.

'It's precisely why the Delhi establishment is so wary and apprehensive about him. They have been so used to the fact that when a friend's child or cousin's niece has to be admitted to a school or somewhere, they can call someone -- they are now not sure who to call. He's not one of them and the feeling is very much mutual.'
He noted that everything that had been said and written about Modi reminded him of the American Public Education documentary Waiting for Superman: 'Everyone is sort of projecting their hopes and apprehensions on an individual and there are two problems with this fixation. One is we really don't know much about this guy. He's come up -- he was a tea-seller's son -- and many of you know about Indian society that when you come up from that background, you've gone through terrible humiliation in your life growing up and you know how to hold your cards very close to the chest. This is a man who holds his cards very close to this chest.'
And, he lamented, 'It's probably fair to say that more than any election since 1977, this election is about an individual -- it's almost like a referendum. And, views about him are extremely polarised and polarised not only in India, but in the United States and I am sure here in Washington as well. His supporters have very high expectations of him on the economic front and his detractors have deep apprehensions about him on the social front, especially apprehensions about the implications for India's secular fabric.'
He said the likely metamorphosis from Dr Manmohan Singh to Modi was from one extreme to the other -- 'too little power and too much power.' Kapur then pointed out the realistic limits of power.
'First, even if the BJP comes to power, it will lack a majority in the Upper House -- the Rajya Sabha,' he said.

'Let's take a bill like the Land Acquisitions Bill, which many people believe is terrible and can impede industrialization, etc. But he cannot just roll back that bill because he doesn't have a majority in the Upper House.'
He explained that many of the reforms in India that people talked about would 'require institutional changes, not policy changes.'
To those at the other end of the spectrum, he said, 'Those who are apprehensive about Modi, especially on his secular credentials, should also recognise that law and order in India is a state subject -- it's not a federal subject. So, whether something may happen in Tamil Nadu or West Bengal, really depends on the willingness -- not the ability -- of the state governments, which are not BJP governments. So, it really again, has much less to do with who's in power at the Centre.'
Kapur also tackled the big question: Modi's humiliation by the State Department by denying him a visa in 2005.
'My sense is that because he recognises that he must get the economy on track -- and that is the thing he's most recognised for -- and to get the economy on track, he knows he has to get the US investors on his side. So, on that he will not sulk. (But) he's a man who does not forgive and forget easily and I have zero doubt that he will hold what the US did to him; he will keep that in mind.'
Tellis also acknowledged that Modi had been bruised by US policy decisions over the years.

'Unfortunately, there's very little that can be done to fix the specific issues that were the source of his grievances, which had to do with a visa and so on and so forth,' he said. 'But we in the United States really need to have a more welcoming attitude to him sooner rather than later.'

'I think he will make his decisions based on what he sees as the national interest -- he's smart enough to know that India's interests vis-à-vis the United States are so and so and he will pursue those. The real question is whether he will do it with enthusiasm. And, so, how the United States reaches out to him will make a real difference to that question of enthusiasm.'
With regard to upsides and downsides of Modi as prime minister, Tellis said, 'The biggest downside that I see is India's complexity, which will not lend itself even to a strong-willed political leader being able to get his way and the expectations that people have now placed on this one man to achieve the transformation that is alluded a very powerful political system.'
As a result, the danger was 'that very soon a sort of disappointment will set in because people are expecting far more of him than the structures of the country will permit him to actually do,' he added.
Kapur said, 'The upside that you are going to see is very likely in infrastructure -- the man likes to build like the Chinese vision. The downside, which might be apprehensive, is how he handles dissent. I am not sure he is a person who knows how to handle it well.'
Economist Arvind Subramanian declared, 'With the present Prime Minister it was all Hamlet and no Macbeth. With Modi, the fear is that it will be exactly the opposite.'

Complete Coverage: Lok Sabha Election 2014