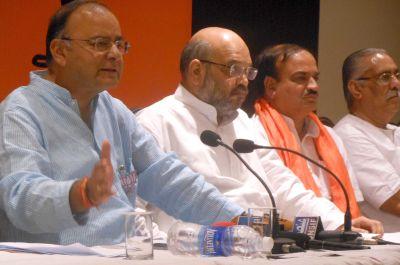 A major controversy erupted on Wednesday with the Bharatiya Janata Party threatening a showdown with the Election Commission after Narendra Modi was denied permission for holding a rally in a crowded area in Varanasi on Thursday.
Accusing the Election Commission for being a "mute spectator" to the "highly partisan" role of the Returning Officer in denying permissions to Modi for addressing a public meeting in the crowded Veeniya Bagh area, where the RO cited security concerns in declining permission.
Demanding immediate removal of Varanasi Returning Officer Pranjal Yadav, senior BJP leader Arun Jaitley said he along with his party leaders including Amit Shah will hold a protest dharna outside Banaras Hindu University as well as outside the Election Commission in Delhi.
Jaitley, who has been camping in the constituency of BJP's prime ministerial candidate, made a veiled attack on the three-member Election Commission he said, "When weak people sit in high positions, democracy is under threat."
However, the Returning Officer said permission has been given to Modi to hold his rally at an alternative site on the basis of an application given by a BJP leader.
He also said the other programmes of Modi, including the meeting with intellectuals and the 'Ganga pooja' have been granted permission. "They are deliberately making an issue out of it."
But Jaitley rejected his claim saying BJP has not made any request for an alternative site where only 2,000 persons can be accommodated. "We are not out of our mind to seek permission for a meeting of our prime ministerial candidate at a place which can accommodate only 2,000 persons," he said.
Jaitley spoke to CEC V S Sampath and wrote three separate letters today on the issue, demanding immediate removal of the RO, alleging that a free and fair election is not possible in Varanasi if he continues in the post.
"We are totally disappointed with the Election Commission when it sits as a mute spectator and has not been able to intervene in the issue and for its failure to remove the official...We have no option but to protest," he said.
Image: Senior BJP leader Arun Jaitley along with party leader Amit Shah at a press conference
Photograph: Sandeep Pal/Rediff.com