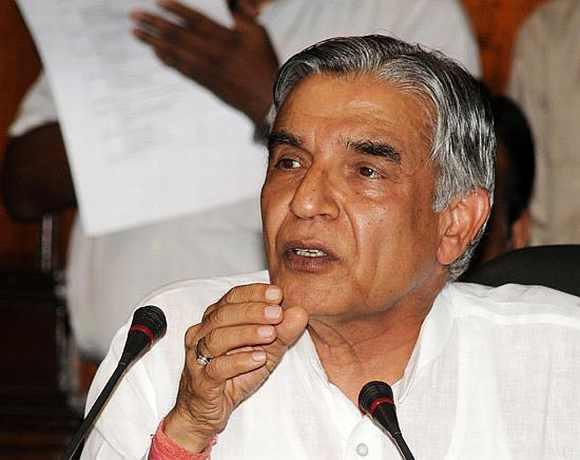 Former Railway Minister Pawan Kumar Bansal was re-nominated by Congress from Chandigarh on Thursday brushing aside the "taint" argument as it released the second list of 71 candidates who include film star Nagma in Meerut and Youth Congress chief Rajeevv Satav from Hingoli.
Bansal had to resign from the cabinet in the wake of the Rs 10 crore cash-for-post bribery scam allegedly involving his nephew Vijay Singla and nine other people when the Congress leader had held the Railways portfolio.
The list includes renomination of several Union Ministers including M Veerappa Moily, Shashi Tharoor, V Narayanasamy, K C Venugopal, K V Thomas and Mullapally Ramchandran.
A surprise was the candidature of Satav, a close associate of Rahul Gandhi, as Hingoli seat in Marathwada region of Maharashtra was in NCP quota under the seat-sharing understanding. Apparently, some last-minute talks at the top level clinched the deal in favour of Satav.
Party spokesperson Raj Babbar, who had defeated UP Chief Minister Akhilesh Yadav's wife Dimple Yadav in a bye-election from Firozabad was shifted to Ghaziabad, a constituency currently represented by BJP chief Rajnath Singh.
The party has named Tarun Patel from Domariyaganj seat, which was represented by Jagdambika Pal who has left Congress.
The lone party MP from Jharkhand Subodhkant Sahay again got a nomination despite opposition from a section of the leadership who doubted his winnability. There was speculation that Babbar, Nagma or cricketer Mohammed Azharuddin, the MP from Moradabad in UP, could be fielded from the Jharkhand capital.
Senior party leader Begum Noor Bano has been fielded from Moradabad, a Muslim-majority seat. In an earlier Lok Sabha, she had represented Rampur.
Party veteran from Karnataka Janardhana Pujari has been chosen for Dakshin Kannada seat while party spokesperson P C Chacko's constituency has been changed from Thrissur to Chalakudy. K P Dhannapalan contests from Thrissur.

With the second list, Congress has so far declared candidates for 261 seats and four of the 194 candidates declared in the first list have been changed.
Rajbala Ola, the daughter in-law of late Union Minister Sisram Ola, has been fielded from Jhunjhunu in Rajasthan.

Former Uttar Pradesh PCC chief Rita Bahuguna Joshi has been made the candidate from Lucknow where BJP chief Rajnath Singh is reportedly keen to contest. The seat is held by BJP's Lalji Tandon.
Pratibha Singh, wife of Himachal Pradesh Chief Minister Virbhadra Singh, has been renominated from Mandi and Hamidullah Sayeed from Lakshadweep.
Sagar Meghe has been fielded from Wardha in place of his father Dutta Meghe. Congress has fielded Devendra Patel from Hoshangabad. Congress MP from Hoshangabad Uday Pratap Singh had joined BJP last year.
The party has fielded former Maharashtra minister Kalappa Avade from Hathkangale, a constituency, which had gone to NCP, which it returned.
Raju Shetty of Swabhimani Shetkari Sangathana, which is now part of Shiv Sena-BJP combine is the sitting MP there. Bhakta Charan Das has been re-nominated from Kalahandi in Odisha.
The seats, where candidates have been changed include Meerut (UP), where Nagma replaced Dayanand Gupta, Raigarh where Aarti Singh replaced Maneka Singh, Raipur, where Satyanarayan Sharma replaced Chhaya Verma. Both the seats are in Chhattisgarh.

Daryl William Cherran Momin replaces D Zennith M Sangma in Tura, Meghalaya.