Asghar Ali is not the only Muslim living in the area. Eight Dawoodi Bohra families already live there. Haresh Pandya reports.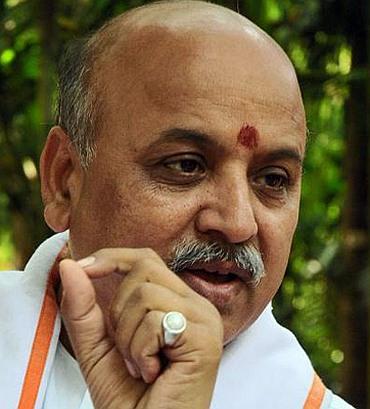 Two days after he was reportedly targeted by Vishwa Hindu Parishad leader Dr Pravin Togadia for buying a home in a Hindu-dominated neighbourhood in Bhavnagar, Gujarat, businessman Asghar Ali is untraceable.
Sources told Rediff.com that he has gone underground "fearing for his life" and has switched off his phone.

Addressing a gathering on Saturday -- attended mainly by local residents and Bajrang Dal workers -- Dr Togadia reportedly issued a 48-hour ultimatum to Ali and his family to vacate the house or be forcibly evicted.

Interestingly, Ali is not the first Muslim resident of Bhavnagar's Meghani Circle area. Eight Dawoodi Bohra families already live there.

Ali's property deal invited the wrath of the saffron brigade who -- Rediff.com has learnt -- have been holding 'Ram Dhuns' and 'Ram Durbars' outside his house for several weeks.

Ali's neighbours refused to comment and even the policemen stationed outside Ali's home seem to have no idea about his whereabouts.

"I have never been to this area before. I know nothing about Ali and his family. I have never seen them. I am here to do my duty," a policeman, requesting anonymity, posted outside the house, said.