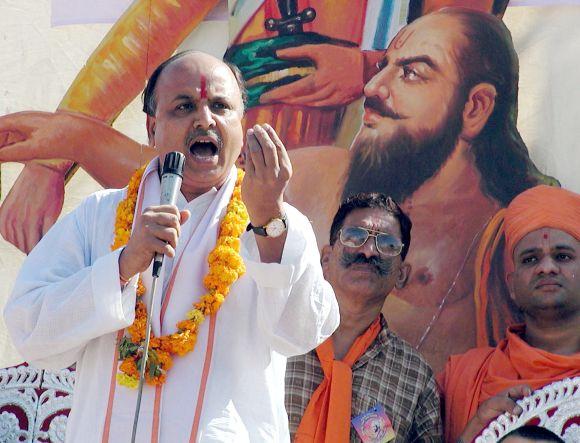 Two days after Vishwa Hindu Parishad leader Pravin Togadia reportedly told people that those from a minority community should be stopped from buying properties in Hindu-dominated localities, the Election Commission has sought the recording of the speech he had made in Bhavnagar.
Complete Coverage: Election 2014
"They (EC officials) are in the process of acquiring the recording of the statements made by Togadia. They will decide future course of action after reading it," said P K Solanki, Bhavnagar's district collector and returning officer.
Togadia had reportedly joined a street protest outside a house purchased by a Muslim businessman in a Hindu locality, near Meghani Circle area in Bhavnagar. Togadia had allegedly told the gathering, mainly comprising local residents and Bajrang Dal workers, that they should give the businessman 48 hours to vacate the home, or else they would storm it, take possession and put up a Bajrang Dal board.
He also reportedly asked them to demand the implementation of the Disturbed Areas Act in Bhavnagar, which prevents inter-community sale of immovable party.
The VHP leader said there had been a pattern in many towns and cities in the country that first a house in a locality is purchased by a Muslim at a very high price, and later more keep coming to settle in the surrounding houses at lower price. He also said that election was the best time to pressurise political parties to ensure the safety of Hindus.
However, the Rashtriya Swayamsevak Sangh came to the defence of the leader, saying that Togadia had not made any such remarks. RSS spokesperson Ram Madhav tweeted, "Pravinbhai had not said anything that was attributed to him. It was fabricated news. No Swayamsevak thinks on those lines."