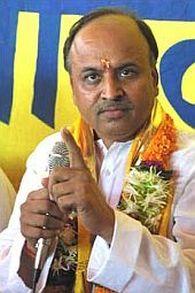 A First Information Report has been registered against Vishwa Hindu Parishad leader Pravin Togadia for inciting communal passions after he allegedly asked some locals in Bhavnagar, Gujarat to forcibly occupy a house purchased by a Muslim man in a Hindu-dominated locality.
An FIR has been filed against him under sections 153(A), 153(B) and 188 of the Indian Penal Code for violating notification of the Election Commission," said P K Solanki, the district collector and returning officer.
While Section 153 (A) deals with those promoting enmity between different groups on grounds of religion, race, Section 153 (B) deals with those, who assert, propagate or publish that any class of persons by reasons of their being members of any religious, racial, language or regional group or caste or community be denied, or deprived of their rights as citizens of India. Section 188 deals with disobedience to order duly promulgated by the Election Commission by way of its notification of elections.
Complete Coverage: Election 2014
The poll panel had asked the district administration to take action against Togadia over his alleged anti-Muslim comments and also directed the administration to submit an action-taken report as soon as possible.
Controversy erupted on Saturday when the VHP firebrand asked his supporters and the gathering to give the owner of the home 48 hours to vacate the home, or else they would storm it, take possession and put up a Bajrang Dal board. Bhavnagar police had initiated an inquiry on Tuesday into the alleged hate speech following the Election Commission orders.
For his part, the VHP leader has termed the media reports 'false, malafide and mischievous' and said he was sending legal notices to media houses.