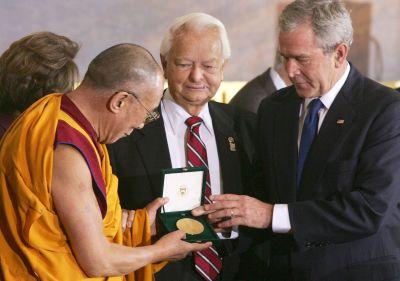 Tibetan spiritual leader Dalai Lama was bestowed with the Congressional gold medal, United States' highest civilian honour, at a ceremony on Wednesday.

The 72-year-old received the honour in recognition of his role as 'one of the world's foremost moral and religious figures, who is using his leadership role to advocate peacefully for the cultural autonomy of the Tibetan people within China.'

President George W Bush, who became the first sitting US President to meet the Dalai Lama in public, said, "It (Congress) has conferred this honour on a figure whose work continues, and whose outcome remains uncertain. In doing so America raises its voice in the call for religious liberty and basic human rights."

Democratic Speaker of the House Nancy Pelosi said, "With this gold medal, we affirm the special relationship between His Holiness the Dalai Lama and the United States."

The Dalai Lama, in his
remarks, reiterated his readiness for dialogue with Chinese leaders aimed at meaningful autonomy for Tibet.  
"Let me take this opportunity to once again appeal to the Chinese leadership to recognize the grave problems in Tibet, the genuine grievances and deep resentments of the Tibetan people inside Tibet, and to have the courage and the wisdom to address these problems realistically in a spirit of reconciliation," Dalai Lama said.
Earlier, at a White House news conference, President Bush responded to China's criticism against the awarding of the Congressional Gold Medal to the Dalai Lama.
Bush said, "I have consistently told the Chinese that religious freedom is in their nation's interest. I have also told them that I think it is in their interest to meet with the Dalai Lama."
Image: President George Bush presents the 14th Dalai Lama of Tibet with the Congressional Gold Medal.
Reportage: Agencies | Photograph: Saul Loeb/AFP/Getty Images