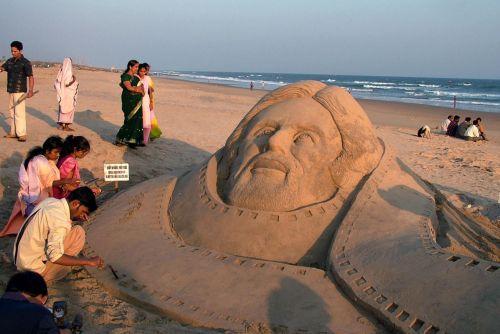 In a novel way of praying for superstar Amitabh Bachhan's speedy recovery, internationally acclaimed sand artist Sudarsan Pattnaik has recreated a image of the Big B in sand at the Konarak beach close to the Sun Temple, a 13th century monument.
The Big B's image was recreated on Monday night on the closing day of the five-day long Konark Festival 2005 organised by Orissa Tourism Department.
Legend says Konark is the place where King Samba worshipped the Sun God, the healer of all diseases, following which he was cured of all his diseases.
Taking cue from the legend, Sudarsan had chosen the venue to erect the sand image of Big B so that well-wishers can pray to the Sun God and wish Amitabh a speedy recovery.
The artist claimed the sand sculpture took nearly three hours to complete and nearly five truckloads of sand were used to make the five-foot sculpture.
Text and Photograph: UNI