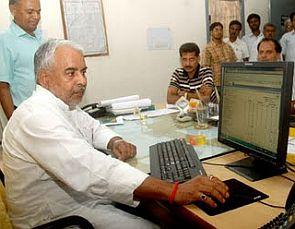 A Bihar minister was on Friday held hostage for about two hours by villagers of martyr jawan Premnath Singh demanding that Chief Minister Nitish Kumar visit their place.
Premnath is one of the five jawans who were killed in an ambush by Pakistani soldiers on the Line of Control in Jammu and Kashmir recently.
Gautam Singh, who is MLA from Manjhi in Saran district and in whose Assembly constituency Samhauta village of martyr Premnath Singh falls, had paid a visit to the sepoy home to pay condolence, when angry villagers took him hostage and demanded visit of the CM.
The villagers while taking the minister hostage asked him to call the CM to release him, sources in the village said.
After detaining Singh, state minister for science and technology, for nearly two hours, the villagers let him go following intervention of elders, they said.

Singh was not present during funeral of sepoy Premnath Singh on Thursday, as he was in New Delhi. On his return, he had gone to the sepoy's village when the unpleasant incident happened.
Meanwhile, mother of another jawan Raghunandan Prasad has announced to return the compensation money to the state government over "insulting" remarks of a Nitish Kumar minister Bhim Singh that people join army or police to die.

The sepoy widow mother Meera Devi told reporters in Nautan village that they were aghast by the remarks of the minister and announced return of Rs 10 lakh cheque as protest.
Raghunandan Prasad, who was unmarried had got job in the army after death of his armyman father.

The Rural Works minister Bhim Singh has tendered apology for the comments. Chief Minister Nitish Kumar who has rebuked the minister has also expressed anguish over the remarks.