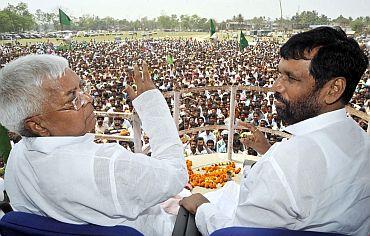 Lok Janshakti Party chief Ramvilas Paswan on Wednesday said that his party will not join hands with Chief Minister Nitish Kumar's Janata Dal-United, and will continue its alliance with Lalu Prasad Yadav's Rashtriya Janata Dal.
Clarifying for the first time after the JD-U dumped the Bharatiya Janata Party from his government 10 days ago, Paswan said that there was no question of an alliance with Kumar.
"The LJP will not join alliance with the JD-U, Paswan, former union minister affirmed.
Paswan added that in case the Congress joins hands with the JD-U, the LJP will not be a part of that alliance. The LJP legislator had abstained during the trust motion in the state assembly on June 19.