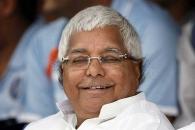 Making a scathing attack on his rival, Rashtriya Janata Dal President Lalu Prasad on Saturday described Chief Minister Nitish Kumar as an 'opportunist' and said his protest over the elevation of Gujarat Chief Minister Narendra Modi within the Bharatiya Janata Party was a 'charade' to corner Muslim votes.
"Why did not he resign from the BJP-led National Democratic Alliance after the Gujarat riots in 2002 like (Lok Janshakti Party leader) Ramvilas Paswan did," Prasad asked.
"Why did he not order a probe into the Sabarmati train burning incident as the railway minister in the NDA government of Atal Bihari Vajpayee," he asked.
"Why did he host Rashtriya Swayamsevak Sangh Chief Mohan Bhagwat at his official residence," asked Prasad.
Poking fun at the possibility of the formation of a Federal Front, the RJD chief said, "It is very difficult to rely on people like Nitish Kumar and Mamata Banerjee."
He said the Janata Dal - United is nothing but "a group of opportunists headed by Nitish Kumar and Sharad Yadav."
The people of the state were watching the entire Ram Leela between the JD-U and the BJP and they will teach a lesson to these parties in the forthcoming elections, said Prasad.
The RJD president said the Maharajganj Lok Sabha bypoll result has started the "countdown for the fall of the Nitish Kumar government."