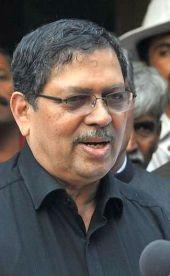 In the backdrop of transfer of Haryana IAS officer for probing land deals, former Karnataka Lokayukta Santosh Hegde on Thursday asked state and central governments to leave issue of transfers to bureaucracy.
"Issues of transfers should be left to bureaucracy itself without there being any interference whatsoever by central or state governments to curb corruption," Hegde told PTI.
Hegde said there was lot of "discontentment" amongst state and central officers in regard to the transfer policies of their respective governments.
"The common complaint seems to be that there is no proper policy and transfers are effected at the whims and fancies of the decision-making authority which is mostly influenced by the pressure from the politicians' various hues," he said.
Such transfers are likely to have serious adverse effect on the efficiency of the government itself, Hegde said, adding, "To have an independent attitude and peace of mind, a government servant must have some assured tenure on any post to which he is posted before he is transferred."
Senior Haryana IAS officer Ashok Khemka was removed as Inspector General of Registration in the wake of his ordering a probe into all the land dealings of Congress president Sonia Gandhi's son-in-law Robert Vadra in four districts of Haryana.
Transfers based on the recommendations of persons who were not connected with the government would certainly lead to corruption and undue favours being shown in favour of such beneficiaries, Hegde said.
Hegde requested administrative reforms commission to make suitable recommendations in regard to the transfer policies, both in the central and state governments.
On statewide transfer, it should be done on the recommendations of a committee consisting of the chief secretary, next senior most secretary and secretary of the department in which the transfer was sought to be effected, Hegde said.
"If this committee is directed to perform its functions transparently, it will be open to the ministry to oversee the complaints on the actions of the committee and remedial actions could be taken," he said.
Hegde said this would certainly take away the public perception that transfers were being done on political or collateral considerations.
There should be minimum of three years fixed duration for the officers' stay in a particular post, which should not be normally reduced or enlarged except for good reasons to be recorded in writing, Hegde said.
"If the principal rule governing the transfer requires, some exceptions to be made like in transfers on compassionate ground, transfer to accommodate married couple to be at the same place or any such reason, same should be made public in the first instance itself, so that these exceptions are not misused," Hegde said.
Image: Justice Santosh Hegde