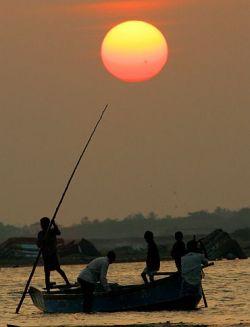 Amidst stepped up pressure to secure the release of over 220 Tamil Nadu fishermen detained in Sri Lanka, 22 more were arrested by the island navy early on Sunday while fishing in the Palk Strait.
The fishermen from Jagadapattinam in Pudukottai district were arrested by Sri Lankan naval personnel this morning for allegedly fishing in their country's territorial waters and taken to Kangesanthurai Port along with their six boats, officials said quoting information received by them.
The Sri Lankan navalmen also chased away another group of fishermen from Rameswaram when they were fishing near Katchatheevu after allegedly snapping their fishing nets.
Tension prevailed in the coastal hamlets in Pudukottai following the arrest of 22 fishermen, officials said.
Fishermen in the state had been demanding immediate release of 227 fishermen of Nagapattinam, Karaikal and Pudukottai districts, detained by Lankan Navy over the past few months and even went on a brief strike.
A delegation of fishermen from Tamil Nadu and Puducherry on Saturday met Prime Minister Manmohan Singh and urged him to prevail upon Sri Lanka to release their colleagues lodged in jails there.
Photograph: Reuters