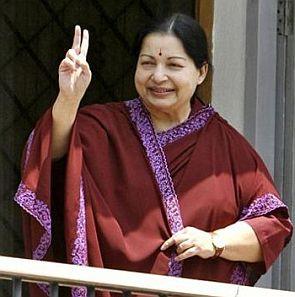 The ruling All India Anna Dravida Munnetra Kazhagam on Tuesday said that party supremo and Tamil Nadu Chief Minister Jayalalithaa is a "qualified" leader to lead the country after the next Lok Sabha polls and vowed to work towards this goal by securing all 40 seats in the state.
On the occasion of the 26th death anniversary of their party founder M G Ramachandran, AIADMK supporters pledged to work towards winning all 40 seats -- 39 in Tamil Nadu and one in Puducherry-- and help Jayalalithaa lead the nation.
Jayalalithaa led the partymen in remembering the leader when she paid floral tributes at his memorial at Marina here.
The pledge, read out by senior party functionary and Finance Minister O Panneerselvam, and repeated by the workers, also slammed the "anti-Tamil" attitude of the Congress-led United Progressive Alliance government on Sri Lankan Tamils issue and the attacks on Indian fishermen by the Lankan navy, besides others and vowed to take them to the people.
"We resolve to work towards securing a massive win in all 40 seats in the coming Lok Sabha elections and hand over the authority to Amma (as Jayalalithaa is addressed by partymen) to lead the future India," the partymen pledged.
On December 19, AIADMK's decision-making bodies -- the executive and general council -- had said Jayalalithaa was qualified to make the country a superpower and that the party would work towards creating a favourable situation for that.
Image: Tamil Nadu Chief Minister Jayalalithaa