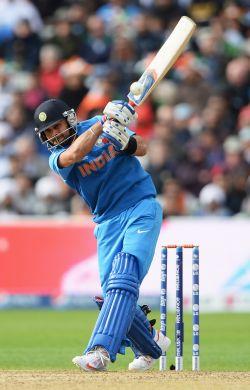 Virat Kohli retained his second position to be the highest-placed Indian batsman, while skipper Mahendra Singh Dhoni and Shikhar Dhawan also maintained their respective sixth and 10th spots in the laTest ICC ODI rankings issued in Dubai.
India, meanwhile, held on to the top spot with 120 ratings points, while Australia continued to be in second place on 114 points, followed by England and South Africa.
Kohli with 859 points is placed behind South Africa's A B De Villiers, who is heading the list with 872 points.
Pakistan's Mohammad Hafeez achieved a career-best ranking of 16th, a gain of 18 points, after finishing as the leading run-getter in the five-ODI series between Pakistan and Sri Lanka, which concluded in Abu Dhabi on Friday.
In the bowling charts, Ravindra Jadeja has gained aposition to be on sixth spot, while Ravichandran Ashwin remained static on 17th.
Saeed Ajmal of Pakistan still tops the bowling list.
Jadeja continues to be at number five in the all-rounders' table.
Image: Virat Kohli
Photograph: Gareth Copley/Getty Images