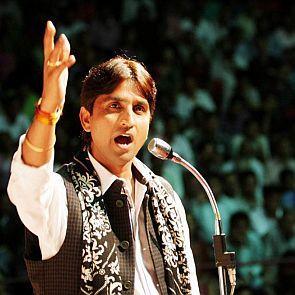 Aam Aadmi Party leader Kumar Vishwas on Monday apologised for his comments on a religious event over which Janata Dal-United MLA Shoaib Iqbal had threatened to withdraw support from the AAP government.
Accusing parties of running edited clips of his old videos, Vishwas said, "Since I have joined the movement against corruption, all the parties are running edited versions of those videos as per their convenience.
"As soon as I got to know about it, I apologised for it. If anybody's religious sentiments are hurt, it was not my intention. It is an edited part of what I had said... If Shoaib (Iqbal) or anybody else was hurt, I apologise for it," he said.
Asked about Iqbal's threat to withdraw support from AAP, Vishwas said, "As far as his support is concerned, it is up to him, it is his own prerogative."
He said, "I had said this sometime in 2005, there was no controversy till today. But it surfaced first time in 2013. BJP edited it and uploaded the 48-second clip on their official handle."
Earlier in the day, JD(U) MLA Iqbal had threatened to pull out support to the AAP government over the video clip in which Vishwas is seen making some comments about Moharram.
"What he has said is very offensive... The people of the country, especially Muslims, are outraged over what has been said in the video clip. I want Vishwas to publicly apologise for it," he said.
Talking about the issue, Chief Minister Arvind Kejriwal said it was a very old issue and Vishwas had already apologised for it.
"It is a very old issue. Kumar had already apologised for it. He had said he goes to 'kavi sammelans' where he had spoken on many satirical issues like this. The issue had come
to the fore around four-five months back and Kumar had then said it was not his intention, but if it has hurt someone's sentiment then he apologises for it," he said.