The Congress in Karnataka on Monday inducted a businessman, who is alleged to be one of those who played a key role in 'Operation Kamala', which led to the collapse of Congress-Janata Dal-Secular coalition government in 2019.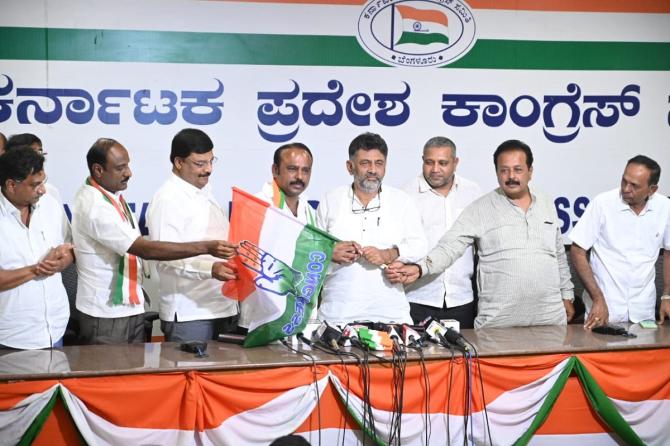 "Operation Kamala" (Operation Lotus), coined by opposition parties, refers to an alleged attempt of the BJP to engineer defection of opposition legislators to install its own government and to ensure its stability.
Uday KM, also known as 'Kadalur Uday Gowda, was welcomed into the party fold in the presence of state Congress president DK Shivakumar.
"Uday is being inducted into the Congress and he has promised to work for strengthening the party in Mandya district. He is joining the party without any conditions. His joining has been approved by all local leaders," Shivakumar told reporters.
Responding to a question about inducting Uday, despite his alleged role in engineering defections through Operation Kamala, he said: "...he (Uday) might have done things while in the opposite party....A Manju, Srinivas Gowda, Gubbi Vasu, Shivalinge Gowda, Madhu Bangarappa (all MLAs/former MLAs)- they've shifted and come back to Congress. It's politics, there will be compulsions."
"Didn't JD-S leader H D Kumaraswamy and I, who had fought each other for long, join hands following the high command's order (to form a coalition government after the 2018 polls)?" he asked.