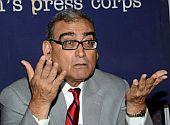 Two youths from Lucknow have sent a legal notice to chairperson of Press Council of India Justice Markandey Katju for his remarks that 90 per cent of Indians were idiots.
Tanya Thakur, first year law student, and her brother Aditya Thakur in their notice have asked Justice Katju to issue a public apology and in case this does not happen within a period of 30 days they would move to the court.
Tanya and Aditya have said that being average citizens of the country they were deeply hurt and humiliated by the statement.
They further added that PCI chairperson's statements would deprecate the reputation of the country and its citizens and a person of his stature should have deliberated on the implications of his statements.
Addressing a seminar organised by the South Asia Media Commission in Delhi on Saturday last Katju had said that 90 per cent of Indians were "idiots" who can easily be misled by mischievous elements in the name of religion.
"I say ninety percent of Indians are idiots. You people don't have brains in your heads....It is so easy to take you for a ride," he had said.
"You mad people will start fighting amongst yourself not realising that some agent provocateur is behind this," he said.
Katju had said that before 1857 there was no communalism in the country but the situation was different now.
He had said that he was saying these harsh things to make Indians, whom he loved, to understand the whole game and not remain fools.