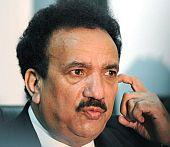 Pakistan's Interior Minister Rehman Malik will pay a three-day visit to India from December 14 to operationalise the liberalised visa agreement between the two countries.
"He (Malik) is going to Turkey on the 12th (of this month) with the (Pakistan) President. He has written to me to confirm that he is coming to Delhi on December 14 and will be in New Delhi till (December) 16th," Home Minister Sushilkumar Shinde on Monday said on the sidelines of 47th Raising Day celebrations of Border Security Force in New Delhi.
Earlier, Malik was to visit the country from December 11 to 13 during which he was scheduled to travel to Agra to spend a day at the Taj Mahal on December 12, which is also his birthday.
Sources, however, said as December 13 is the 11th anniversary of Parliament attack, carried out by Pakistani terrorists, Malik might have chosen to avoid being in India on that day.
Both India and Pakistan will operationalise the liberalised visa agreement during Malik's visit. The new visa regime will replace a 38-year-old restrictive accord and will pave the way for time-bound visa approval and greater people- to-people contact and trade.
Home ministry sources have said details of Malik's visit was being worked out in consultation with the ministry of external affairs and Pakistan high commission in New Delhi.
Malik had tweeted on December six that his planned trip to India has been delayed by a few days and will now visit New Delhi on December 14.
The Pakistani Minister had said he plans to visit Agra on December 14.