The move by four airlines -- IndiGo, Air India, SpiceJet, GoAir -- to suspend the stand-up comedian raises fears that the government can use the no-fly list to settle political scores, undermine the freedom of citizens.
Arindam Majumder reports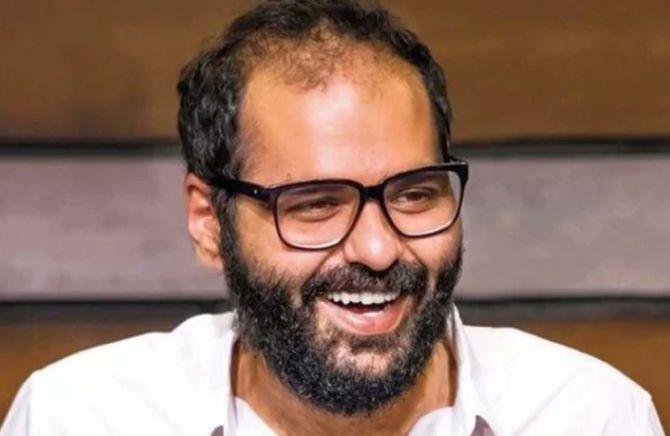 A tweet from Civil Aviation Minister Hardeep Singh Puri made four major airlines ban stand-up comedian Kunal Kamra for 60 days even though the crew of IndiGo, where the incident took place, filed no complaints.
IndiGo suspended Kamra from flying for six months after he confronted Republic TV editor Arnab Goswami about his style of reporting on board one of its flights from Mumbai to Lucknow on January 28.
The ban was followed by Air India, SpiceJet and GoAir after Puri tweeted: 'We are left with no other option but ask other operators to impose similar restrictions.'
The move has raised fears that the government can use the no-fly list to settle political scores, undermining freedom of citizens.
Sudhakar Reddy, president, Air Passengers Association of India, said the no-fly list is heavily tilted in favour of airlines.
"The success of any law lies in it balancing the interests of all concerned. Unfortunately, at first glance, these rules look skewed against passengers. Who gave the right to airlines to ban the passenger without any enquiry? In all laws you are innocent till proven guilty," Reddy says.
Industry executives also questioned the minister's involvement, saying such a direction from the minister's office undermines the laid-down guidelines by the aviation regulator.
An executive of an airline that banned Kamra said, "The minister created undue pressure on airlines, forcing hurried decisions. You know whom you should ideally question on this and it's not the airlines. Such things set a dangerous precedent."
Queries sent to Puri's office on why the minister interfered in a safety investigation process were diverted to Civil Aviation Secretary P S Kharola, who didn't comment.
In 2017, the government had issued rules for preventing disruptive behaviour by flyers and laid down guidelines for the no-fly list.
Under those rules, offence was classified into three categories -- Level 1 called for debarment of up to three months for behaviour that is verbally unruly; Level 2 called for debarment of up to six months for physical unruliness; and Level 3, where the debarment would be for at least two years, indicated life-threatening behaviour.
According to the 2017 rules, the complaint of unruly behaviour needs to be filed by the pilot-in-command, and such complaints are to be probed by an internal committee to be set up by the airline.
The committee is then expected to decide within 30 days, and specify the duration of ban. During the period of pendency of the enquiry, the rules empowered the concerned airline to impose a ban on a passenger.
'The matter has to be referred to an internal committee of airlines and they have to give a final decision in 30 days and give reasons in writing. Punishment for different types of unruly behaviour is prescribed and airlines have to adhere to the same,' the Directorate General of Civil Aviation said on Wednesday.
'This is to reiterate that the action taken by the airlines is in complete consonance with civil aviation requirements.'
Sanjiv Kapoor, who till last month served as chief commercial officer, Vistara, said, "DGCA regulations, like all other regulations, have to be followed and not disregarded. Else, we are on a slippery slope."
Queries sent to IndiGo, SpiceJet, Go Air, and Air India on whether due process was followed didn't elicit any response.
Another query to the airlines on whether they have formed a committee to investigate the matter didn't elicit any response either.
Only Air India said it has a committee comprising of retired judge Ashok Bharadwaj, Kamal Hingorani, an executive with SpiceJet, and Setu Vaidyanathan, vice-chairman, Passenger Association of India, to investigate such incidents.
Vistara and Air Asia India have not banned Kamra yet. A Vistara spokesperson said: "The airline stands firm with zero tolerance policy against any act that compromises safety and security. We will review and follow due process in such cases."
An AirAsia India spokesperson also said an internal committee was reviewing the incident and a "decision will be taken soon according to due process".