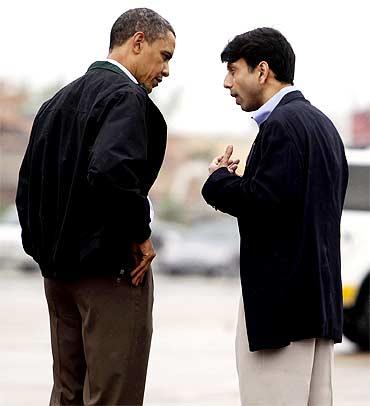 Louisiana Governor Bobby Jindal has called for the US federal government to respond promptly to the BP oil spill which has occurred off the Louisiana coast.
The spill in the Gulf of Mexico on April 20 has spread rapidly and poses a severe threat to the wildlife in the marshes that dot the Louisiana coast. The blowout caused an explosion which led to the sinking of the Deepwater Horizon offshore drilling platform.
The Louisiana governor has slammed the Barack Obama government's failure to plug the well, terming the presidential team "sluggish and uncoordinated" politico.com reported.
In the aftermath of the Hurricane Katrina, which devastated Louisiana and left its economy in tatters, Jindal is keen not come off as a aloof politician, like his predecessor Kathleen Blanco, whose response to the tragedy was seen as inadequate.


Jindal, the first Indian-American governor of a US state, has thrown himself headlong into the latest crisis to hit Louisiana, spending long hours meeting with experts trying to resolve this crisis.
Many regard this as Jindal's trial by fire. His vocal opposition of Obama's policies, especially the bailout have not endeared him to the powers that be in Washington, while his criticism of big oil companies has rankled his Republican colleagues. Many Republican seem to prefer Mississippi Governor Haley Barbour's more laid back attitude towards the spill. Barbour has maintained that liberal environmentalist are over-stating the effects of the spill to curtail more off-shore drilling. 

There have been reports that Jindal has been "frustrated with the lack of clarity" of the part of the federal teams that are dealing with the spill. The Army Corps Of Engineers has been the target of Jindal's ire for not taking prompt action and sanctioning his plan to place sand barriers along the coast to prevent further degradation. The oil spill incident commander Tim Allen has said that Jindal's plan was untested and might waste time and money which could be put to more productive uses. On Monday, Jindal told reporters that he was frustrated with federal efforts to use containment booms to contain the oil spill which has spread into the marshes and mangroves along the coast, politico.com stated.
The Obama administration has been surprised by Jindal's constant diatribes especially since the governor has been in constant touch with the President since the crisis broke out.
Jindal's rebuttal to Obama's inauguration speech was panned by critics and supporters alike, but his ambition to occupy the highest office in the country is no secret, not whitstanding that, critics agree that the former Rhodes scholar has been at his energetic and intelligent best while tackling the latest crisis.

Image: US President Barack Obama is briefed by Louisiana Governor Bobby Jindal about the BP oil spill |
Photograph: Larry Downing/Reuters