Jayant Chaudhary has plenty of time to make his own mistakes. But this election is a crucial test of his leadership.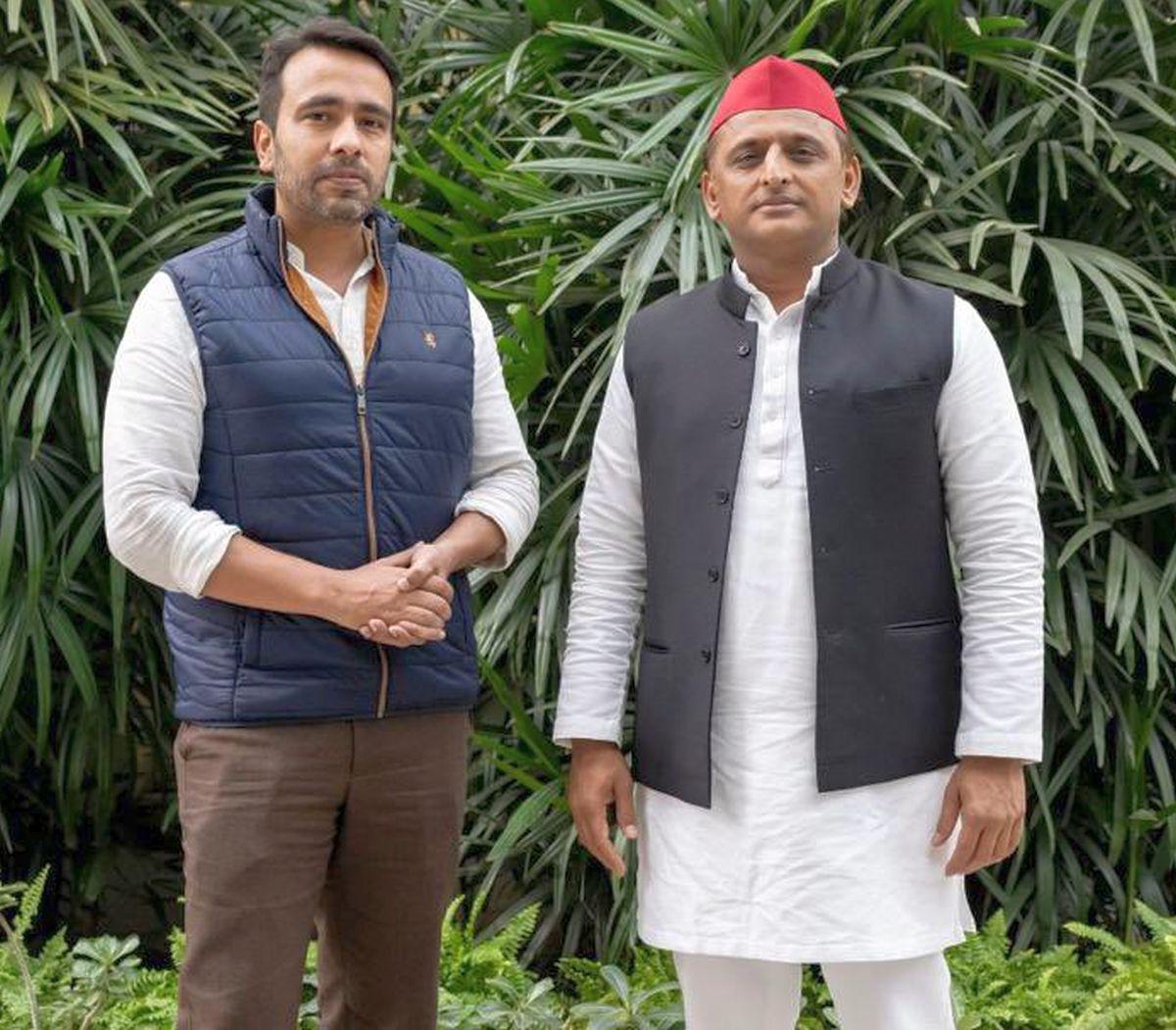 Jayant Chaudhary, the grandson of India's fifth prime minister Chaudhary Charan Singh, is -- literally speaking -- adding capital to the family business, politics.
The president of the Rashtriya Lok Dal, after his father and former Union minister Ajit Singh died in May last year, is the youngest Chaudhary in town.
He has had two defecting to his party, has negotiated a tie-up with the Samajwadi Party, and was one of the few political leaders to have been allowed on the stage when farmers in western Uttar Pradesh were protesting against the agri laws.
Avatar Singh Bhadana, who represented Muzaffarnagar's Meerapur assembly seat in the UP Vidhan Sabha, quit the Bharatiya Janata Party and joined the RLD recently.
So did Gajraj Singh, a four-term MLA from Hapur, who resigned from the Congress to join Chaudhary.
The RLD today is a far cry from what it used to be in the 1970s and 1980s.
But after years of being in the wilderness, Chaudhary is straining every nerve and sinew to put it back on the map.
He has a long time to do it.
He is just 44.
Chaudhary is ambitious, but is realistic enough to know his limitations.
The RLD's might, such as it is, is located mainly in the Jat-dominated districts of western UP.
The heart of the sugarcane farm belt in UP, Shamli is well known for its politics of agrarian militancy and the centre of a brand of Hindu Socialism -- if it can be called that -- founded by Charan Singh, who strode like a colossus in this region during and after the independence movement.
Jayant is acutely conscious of what he has inherited and the challenges it represents.
He had a perfectly good alternative career. He did a BCom from Delhi University and did an MSc in accounting and finance from the London School of Economics.
He then worked for an asset management company, Lazard. But without telling his father, he returned to India before the 2004 elections, chucking up his job.
Ajit Singh was furious and conveyed his ire via Jayant's wife Charu.
But what was done was done.
Chaudhary knew that if he wanted a start in politics, there was no point in waiting till he was 40.
In any event, he was forced to.
He sat out the 2004 elections, but contested and won the Mathura Lok Sabha seat in 2009 by a margin of nearly 100,000 votes.
That was the only Lok Sabha election he would win.
In 2014 he was trounced by Hema Malini and has not recovered since.
His moment of reckoning came in 2018.
It was the Kairana by-election, caused by the death of veteran Jat leader Hukum Singh.
It was the election where the entire Opposition joined together to oppose the BJP.
Kairana has been a Charan Singh stronghold.
Never one to cling to illusions, Jayant sought the help of Akhilesh Yadav of the Samajwadi Party.
Thus began the phase of the 'UP ke ladke' relationship.
Kairana was furiously fought -- and amazingly, the RLD won the seat by just over 40,000 votes.
From being Chaudhary Saab's grandson to the man who was defeated by Hema Malini, now, Jayant was the boy who engineered the Kairana victory.
The next turning point was the farmers's agitation.
Jayant worked indefatigably through an agitation which was as strongly opposed to the central government's farm laws as it was to politicians.
He won the respect of many veterans and had a ringside view of the manner in which issues were articulated by some old foxes.
His advantage was, he was a bridge between the young and the old.
In policymaking, which will finally be part of the RLD manifesto, he created a link using augmented reality for young people to engage.
Through this, policymaking became more organic in a party that was getting to be staid and set in its ways.
For instance, the RLD says it will create one crore (10 million) jobs for young people.
But he is quick to point out that these will not be public sector jobs. That he had fingers in other pies -- for instance, in pucca.com, a start-up offering CSR with young entrepreneurs like Vivan Sharan (Koan Advisory) as its director, helped.
Chaudhary has been steadfast in his belief that Hindus and Muslims just have to get on with each other. There is no other option in his kind of politics.
The 2013 Muzaffarnagar riots were an eye-opener for him.
He is clear that even if it doesn't yield immediate results, 'bhaichaara' has to be a way of life.
He is equally forthright on the Lakhimpur Kheri killings of farmers.
All this means he goes down a road that diverges almost completely from the BJP.
He doesn't seem to object to this, though his father had no problems in joining the Atal Bihari Vajpayee government as minister.
Ajit Singh had a sense of humour all his own. Jayant has improved on it.
A verse on his Twitter page says: 'Globe trotting, Clothes strutting, Maximum gloating, Economy shutting, Liberals fretting... GUESS WHO'.
In 2009, when everyone was talking about Feel Good, he reminded an anchor that it was as much about Feel Good as it was about Feel Gud, as in gud, or jaggery, a crucial element in the politics in his part of the world, where ganna (sugarcane) is king.
Jayant Chaudhary has plenty of time to make his own mistakes. But this election is a crucial test of his leadership.