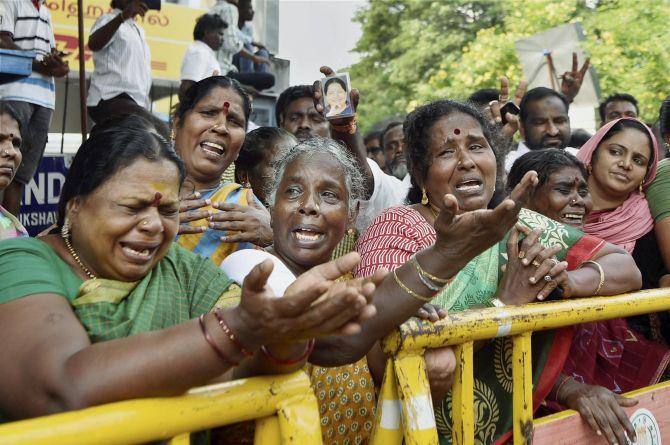 IMAGE: Supporters of Tamil Nadu Chief Minister Jayalalithaa cry in front of Apollo hospital in Chennai on Monday. Photograph: R Senthil Kumar/ PTI Photo

Apollo Hospitals said on Monday evening that a team of its doctors and those from All India Institute of Medical Sciences was continuously monitoring the health of Chief Minister Jayalalithaa and denied as 'totally baseless and false' reports that she was no more.
'Some TV channels are wrongly reporting that the Honourable CM is no more. It is totally baseless and false.
'They are advised to rectify this mistake based on this press release,' the hospital said in a statement after news channels reported that the All India Anna Dravida Munnetra Kazhagam leader was no more.
The hospital statement said Jayalalithaa continued to be on life support.
'The Apollo specialists and specialists from AIIMS are continually monitoring the CM very closely,' it said.
Earlier, the AIADMK had lowered its flag at party headquarters in Royapettah to half mast after local media reported that their party supremo is dead.
Violence broke out outside Apollo Hospital in Chennai and police had to use mild lathi-charge to control the situation.
Soon after this, the hospital released the statement rejecting reports of the CM's death.
Earlier in the day, the hospital said the CM remains in a 'grave situation' despite the best efforts of doctors.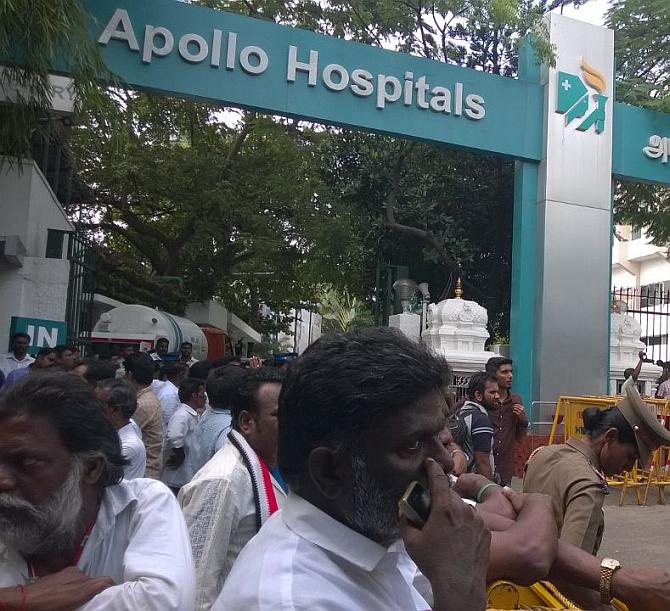 IMAGE: The scene outside Apollo hospital. Photograph: A Ganesh Nadar/Rediff.com
What's extracorporeal membrane oxygenation or ECMO?
The ECMO machine is similar to the heart-lung by-pass machine used in open-heart surgery. It pumps and oxygenates a patient's blood outside the body, allowing the heart and lungs to rest.
When you are connected to an ECMO, blood flows through tubing to an artificial lung in the machine that adds oxygen and takes out carbon dioxide; then the blood is warmed to body temperature and pumped back into your body.
Being placed on ECMO requires a surgical procedure, but it is usually done in a patient's room. The patient is sedated and given pain medication and an anti-coagulant to minimize blood clotting.
A surgeon, assisted by an operating room team, inserts the ECMO catheters into either an artery or veins. An x-ray is then taken to ensure the tubes are in the right place. Usually a patient on the ECMO pump will also be on a ventilator, which helps the lungs to heal.
Discontinuing ECMO requires a surgical procedure to remove the tubes. Multiple tests are usually done prior to the discontinuation of ECMO therapy to confirm that the patient's heart and lungs are ready.
Information Courtesy: University of California San Francisco
'Despite our best efforts, our beloved CM remains in a grave situation,' Apollo Hospital's Joint Managing Director Sangita Reddy said in a Twitter post.
This comes barely two hours after the Hospital in an official statement had said Jayalalithaa "continues to be very critical."
Dr Richard Beale, the London-based expert in lung injuries and intensive care management, too said that Jayalalithaa's condition was "extremely grave".
In a statement, Dr Beale said: "Unfortunately, and in spite of the progress she had made, her underlying health conditions inevitably meant that the risk of further problems always remained."
"The situation is extremely grave, but I can confirm that everything possible is being done to give her the best chance of surviving this shocking event. She is being cared for by a highly multi-disciplinary team and is now on extra corporeal life support.
"This is the most advanced level of support available and is the approach the best centres internationally would take in this situation. That this technology is available in Apollo Chennai reflects the high degree of expertise of this centre and, that at all times, Madam has received exceptional care from Apollo and AIIMS care team, which are equal of any in the world," he said.
He said his prayers and thoughts were with the Chief Minister, her family, her carers and the people of Tamil Nadu "at this very difficult time".
68-year-old Jayalalithaa has been put on extracorporeal membrane oxygenation, a heart assist device, and was under the watch of experts, including cardiologists. The ailing chief minister had shown signs of improvement during the last few days before the setback on Sunday.
The Centre has dispatched a team of specialists from the All India Institute of Medical Science to Apollo Hospital.
"We are in constant touch with Apollo and Tamil Nadu government. They had requested a team of doctors from AIIMS. We have sent a team of specialists from AIIMS Dr Khilani, Dr Trikha, Dr Narang and Dr Talwar. We hope that doctors from AIIMS and Apollo will be able to help in her recovery. We pray to God that she regains her health," Health Minister J P Nadda said.
The team of AIIMS doctors include pulmonologist Dr GC Khilnani, anaesthetist Dr Anjan Trikha, cardiac surgeon Dr Sachin Talwar and cardiologist Dr Rajiv Narang.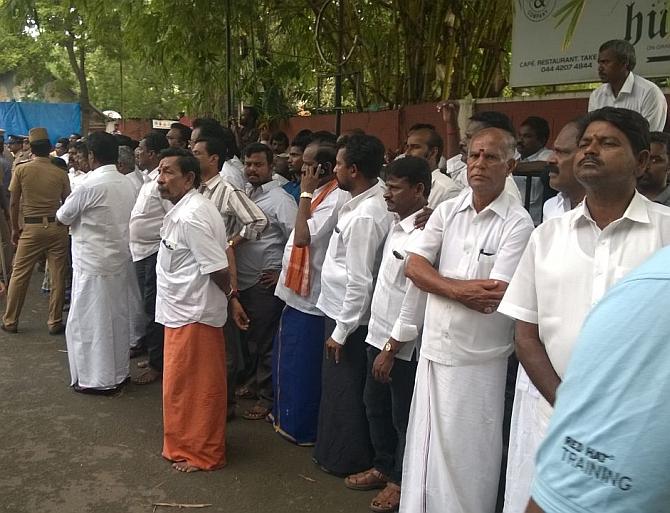 IMAGE: Party workers, who had gathered in large numbers outside the hospital after news of her cardiac arrest broke, braved midnight rains and continued to wait outside, praying for the recovery of 'Amma' (mother), as she is fondly called by her supporters. Photograph: A Ganesh Nadar/Rediff.com
Party workers, who had gathered in large numbers outside the hospital after news of her cardiac arrest broke, braved midnight rains and continued to wait outside, praying for the recovery of 'Amma' (mother), as she is fondly called by her supporters.
Actor and party supporter, 'Gundu' Kalyanam, said the party workers had faith in the divine power and expressed confidence that Jayalalithaa would recover.
President Pranab Mukherjee, DMK leader M Karunanidhi, his son and opposition leader K Stalin, Union Ministers, Congress leader Rahul Gandhi, Chief Ministers and a host of leaders have expressed concern over Jayalalithaa's health condition and wished her speedy recovery.
Union Minister Kiren Rijiju said the state may require extra forces, which the home ministry will be ready to put on standby "whenever" required.
The Union Minister of State for Home Affairs said the Centre cannot intervene on its own but is willing to send extra forces to Tamil Nadu if the state asks for it.
"They haven't asked anything formally," Rijiju said, adding that the state has a significant number of central forces.
"If there is a law and order situation then the Centre is always willing to send extra forces. It is our primary duty to ensure that the state is being helped in whatever possible way they require.
"Because of the prevailing health condition of the Chief Minister (Jayalalithaa) they may require extra forces which the Home Ministry will be ready to be put on standby, whenever and whatever they require," the minister said.
The US Consulate in Chennai has issued an "emergency message" for American citizens, asking them to review their personal security plans and remain aware of the local events.
"US citizens are reminded that even gatherings intended to be peaceful can turn confrontational and escalate into violence. You should avoid areas of demonstrations, and exercise caution if in the vicinity of any large gatherings, protests, or demonstrations," the Consulate said in a message on its official website without any reference to any particular development.
"Review your personal security plans; remain aware of your surroundings, including local events; and monitor local news stations for updates. Maintain a high level of vigilance and take appropriate steps to enhance your personal security," the message said.
Further, the Consulate General will operate with reduced staffing on Monday, it announced, adding, it has "temporarily suspended appointments for routine services to US citizens and visa applicants."
Earlier in the day, eminent cardiologist Dr Naresh Tehran, who is heading a team of doctors to Chennai Apollo, said the Tamil Nadu chief minister was in a 'critically-stable' condition.
Speaking to ANI, Dr Trehan said as per the latest statement, Jayalalithaa is stable, which means that the machine has helped to stabalise the situation as this gives the patient a chance to pull through.
"The underlying criticality is still there. How she will come out of it is still the future. The clarification here is that she is still critical, but stable. 'Critically-stable' that's what we normally say. That means there is an opportunity that she might come out of it," he said.
"She was admitted two months ago in a critical condition and in that time whatever we knew was her chronic lung problem. There was also serious thought that whether she will be able to come out of it or not, but the recent record showed that she had come out of it and she was well. So, the doctors said that she could go home if she wants to; so, there was a lot of hope. Suddenly, yesterday, it took a back turn and said that she had a cardiac arrest," he added
"The ECMO or Extra-Corporeal Membrane Oxygenation device is a life support system that helps provide oxygen to the body when the patient's lungs or heart are unable to do so. Worldwide, it gives patients a 50-50 chance in acute situation. Ultimately, we all are hoping that she will recover, and it also shows that the situation is very critical. ECMO is a good device," he added.
Meanwhile, a Cuddalore report said security has been strengthened at Neyveli Lignite mines and Thermal power stations.
No untoward incidents have been reported, Cuddalore district SP C Vijayakumar said.
Five Karnataka state owned buses have been parked in the Tamil Nadu Transport Corporation sheds as they did not ply to Bengaluru, he said.
Most business establishments in some areas in the district were closed since Sunday evening.
AIADMK workers and supporters offered mass prayers for Jayalalithaa's recovery in temples including the Nataraja shrine at Chidambaram.
A Coimbatore report said buses, taxies and autorickshaws plied as usual in the morning, and educational institutions remained open. Almost all shops and traders opened their business establishments. However, around 3pm, several private buses, taxis and autorickshaws stopped plying and school managements allowed the parents to take their wards from the schools.
The City police commissioner warned of stringent action against those who indulged in spreading unnecessary rumours on the chief minister's health condition.
Government buses going to Karnataka from Coimbatore and Nilgiris district did not not ply and also buses from that state were stopped at the inter-state borders on Nilgiris district apprehending violence, police said.