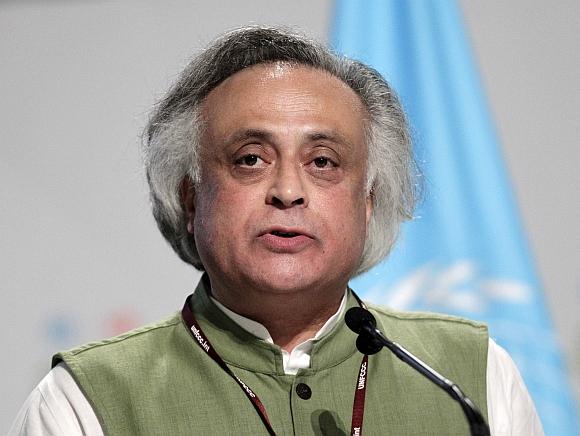 Former environment minister Jairam Ramesh on Thursday virtually backed the non-governmental organisation Greenpeace in the backdrop of an Intelligence Bureau report warning that the NGO is a threat to the country's economic growth.
While stressing on the need to restore the lagging economy, Ramesh said India cannot afford to adopt "a model of grow now and pay later" and emphasised the need to make technological and investment choices to achieve green growth.
"Greenpeace has a domestic funding largely. A large number of local philanthropists have funded Greenpeace," Ramesh said at an event jointly organised by think-tank ICRIER, World Bank and Global Green Growth Institute.
Admitting that the NGO had made his life miserable when he was an environment minister, he said, "There were protests on Bt brinjal and other issues. But I don't believe that shedding Greenpeace off, does success or credit to us as an open and liberal democracy."
The government cannot ask NGOs to stop their protest because their job as a protester is to protest, while the job of a government is to govern, he said.
Hoping that the controversy surrounding NGOs dies down soon, Ramesh said one should be open to all kinds of views because "having contradictions, complexities and conflicts are essential elements of economic growth."
"I hope this debate will settle down. I hope both sides will talk to each other and not talk at each other," he added.
The IB, in its report 'Impact of NGOs on Development', said that NGOs and their international donors are planning to target many fresh economic development projects including those in Gujarat.
Responding to the charge, Greenpeace said the report was "designed to silence civil society who raise their voices against injustices to people and the environment by asking uncomfortable questions about the current model of growth".
Ramesh said that while making efforts to restore India's economy, steps should also be taken to achieve green growth with a focus on sectors such as energy, transport, manufacturing, building and construction.
"The real challenge ahead would be making technological and investment choices to balance economic growth and environment sustainability," he added.
Citing the country's energy crisis, the former environment minister said it is not easy to make choices for achieving balanced growth.
"We produced 65,000 megawatt of power last five years. Nuclear power generation is only 3 per cent of supply, while supply from renewable sources is going to take some time and hydel power plants has its own set of problems... In short to mid-term, India has to depend on low quality coal for power."
"Most of coal reserves are in forests areas of Odisha and Jharkhand. In such situation, how do we make choices?" he asked.
Stating that he was "not hopeful" of negotiations at the Copenhagen climate change summit to be held in 2015, Ramesh said: "I am not very optimistic about the talks. I am not really hopeful of negotiators."
The issue of reducing green gas emission is "a political problem," for which a decision to need to be taken by political establishments, he said.
Ramesh also mentioned that the US and China, the world's two biggest polluters and who account for 48 per cent of green gas emissions, do not want to sign the agreement.
Although India is not a major green gas polluter, it has to be part of the solution because it is going to be most adversely affected, he said.