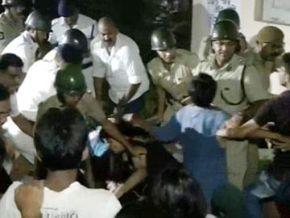 The Jadavpur University vice chancellor and registrar, who were gheraoed by students demanding a fresh probe panel on an alleged sexual harassment of a girl student inside the campus, were freed in the wee hours of Wednesday by a strong contingent of police force, which arrested 35 students.
The police force managed to lift the gherao of the vice chancellor and registrar Pradip Ghosh.
There was a scuffle between the police and students but no report of injury was reported during the police action, police said.
Soon after the gherao was lifted, the students gheraoed the nearby Jadavpur police station demanding release of their classmates.
Tensions ran high in the campus and surrounding S C Mallick Road area as the students assembled in large number before the police station, disrupting traffic. Police have given the students a deadline till 10:30 am to lift the gherao.
The students were protesting the molestation of a woman on the campus two weeks ago. The VC and Registrar, meanwhile, said that authorities were ready to sit for a discussion with the agitating students for ending the impasse.
Students union leaders said they would hold talks to chalk out fresh course of action but threatened that the agitation will continue till the authorities apologised for bringing in police inside the campus and the alleged use of force to "break a democratic movement."
Students claimed they were beaten and attacked by the cops during the clash on Tuesday night. One of the students said, "There were policemen, (but) there were goons who were without uniform claiming to be police, who massacred the entire university. Girls like me and everybody like me were hit by male policemen. There were only two policewomen. They didn't touch us. The policemen randomly picked up people."
Questioning the late night crackdown, the students also allege that many of them were seriously injured and had to be hospitalised. "The police came and beat us up brutally. They behaved as if we were pieces of chicken. They caught us and threw us around," said one of the protesting students.
-- With inputs from Agencies
Image: Police lathi charge the students protesting against the university's vice-chancellor and registrar