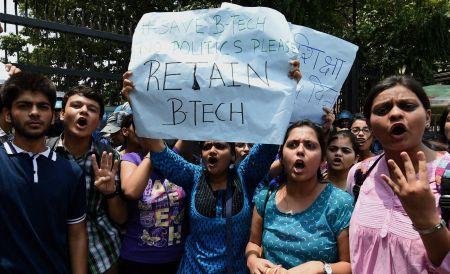 Hundreds of BTech students of Delhi University on Saturday staged a protest outside the Vice Chancellor's office, demanding that their four-year BTech course should not be scrapped.
Protesters raised slogans against Human Resource Development Minister Smirti Irani and University Grants Commission and held placards like – "We want B Tech", "UGC down down", and "Hum hamara hak mangte nahi kisi se bhik mangte".
Students began their protest from the VC's residence and ended it outside his office.
They even tried to enter VC's office, but were stopped from doing so by the personnel of Delhi Police and Rapid Action Force. The agitating students demanded that their course should not be converted to BSc citing it will hold no value for them.
"We don't want DelhiUniversity to scrap the BTech course. If BTech gets scrapped, our future will get destroyed. We will not sit silent till our demands are met," Rajesh Choudhary, a protester.
"We had enrolled in DU for a four-year BTech programme and we expect to obtain the same. We have no problems if all the other courses are of three years' duration. But our course should remain a four year course," Arjun Malhotra, a student of BTech in Computer Science, said.
The students had staged a protest outside the UGC office on Friday demanding the same.
Under pressure from UGC to act on its directive, DU on Friday scrapped its four-year undergraduate programme and reverted to the previous three-year structure.
Meanwhile, in an attempt to allay apprehensions, the HRD ministry said the BTech students' worries would be sorted out by Saturday evening.
Ministry officials assured the BTech students on behalf of HRD Minister Smriti Irani that their interest would be kept in mind and a statement in this regard would be issued by UGC.
A 12-member committee of principals formed by DU vice chancellor Dinesh Singh for admissions would also submit its recommendations by Saturday evening.
Image: BTech students chant slogans and hold placards demanding that their course not be scrapped. Photograph: PTI