The Indian Space Research Organisation (ISRO) on Monday successfully launched a second generation navigation satellite, using a GSLV rocket with a cryogenic upper stage to do the job.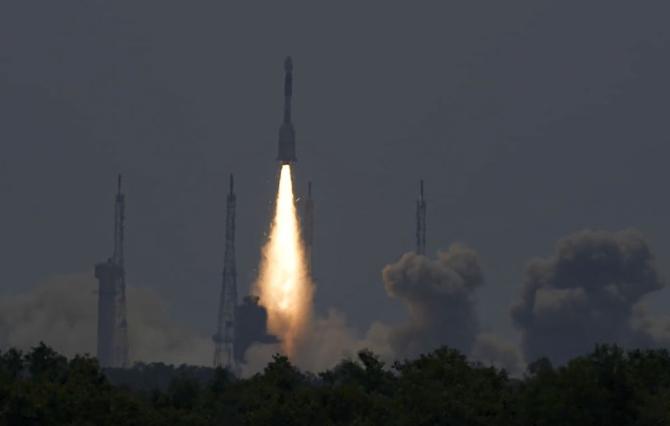 NVS-01 would augment the country's regional navigation system, providing accurate and real-time navigation.
At the end of a 27.5 hour countdown, the 51.7 metre tall, 3-stage Geosynchronous Satellite Launch Vehicle lifted off at a prefixed time of 10.42 am from the second launch pad at this spaceport, situated about 130 km from Chennai. This was GSLV's 15th flight.
The second generation navigation satellite series dubbed as a significant launch would ensure the continuity of NavIC (Navigation with Indian Constellation) services -- an Indian regional satellite navigation system, similar to the GPS, providing accurate and real-time navigation.
Signals from NavIC are designed to provide user position accurate to better than 20 metres and timing accuracy better than 50 nanoseconds.
ISRO chairman S Somanath congratulated the entire team for the "excellent outcome" of the mission.
"NVS-01 has been placed in precise orbit by GSLV. Congratulations to the entire ISRO team for making the mission happen," he said in his post-launch address from the Mission Control Center.
Today's success came after the GSLV F10 'debacle,' he said referring to the anomaly in the cryogenic stage of the launch vehicle in August 2021, following which the then mission could not be realised.
He expressed joy that "corrections in cryogenic stage and lessons learnt have really paid benefits" and credited the Failure Analysis Committee for addressing the problem.
Somanath further said NVS-01 is a second generation satellite with additional capabilities. The signals will be more secure, civilian frequency band has been introduced, he said. This was one of the five of such satellites.
The rocket, a little short of 20 minutes after it took off, deployed the 2,232 kg satellite into the intended Geosynchronous Transfer Orbit (GTO) at an altitude of about 251 km.
NVS-01 carried navigation payloads L1, L5 and S bands and the second generation satellite also has an indigenously developed rubidium atomic clock.
It is for the first time that an indigenously developed rubidium atomic clock has been used as the scientists earlier opted for imported ones to determine date and location.
Ahmedabad-based Space Applications Centre has developed the clock, and according to ISRO, it assumes significance as it is an important technology that only a handful of countries possess.
ISRO developed the NavIC system to meet the positioning, navigation and timing requirements of the country, particularly with regard to civil aviation and military requirements.
NavIC was earlier known as the Indian Regional Navigation Satellite System (IRNSS).
"The L1 navigation band is popular for providing position, navigation and timing services for civilian users and for interoperability with other GNSS (global navigation satellite system) signals," ISRO said.
Some of the applications of NavIC include terrestrial, aerial and maritime navigation, precision agriculture, location-based services in mobile devices and marine fisheries, among many others.
NavIC offers two services -- Standard Position Service (SPS) for civilian users and Restricted Service for strategic users.
NavIC SPS signals are interoperable with the US global navigation satellite system signals, GPS, Glonass from Russia, Galileo (European Union) and BeiDou, China.
Monday's mission is the sixth operational flight of the GSLV with indigenous cryogenic stages. The mission life of NVS-01 is expected to be better than 12 years, ISRO said.
ISRO has already launched similar navigation satellites--IRNSS-1A,IRNSS-1B,IRNSS-1C, IRNSS-1D, IRNSS-1E,IRNSS-1F,IRNSS-1G, IRNSS-1H and IRNSS-1I.
Of these missions, IRNSS-1H was not successful as the satellite could not be placed into orbit. It was replaced by IRNSS-1I which was successfully launched on April 12, 2018.