Islamic State jihadists are barring civilians from leaving Mosul on Tuesday and using them as human shields, as the battle for the Iraqi city entered its second day, a Pentagon official said.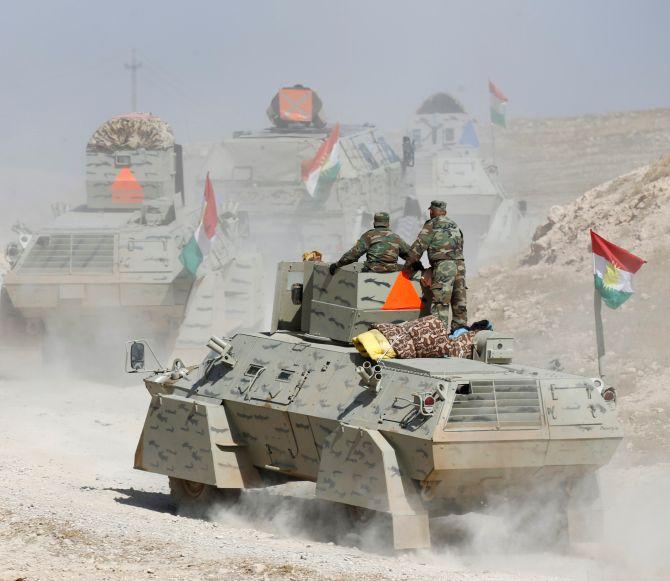 IMAGE: Peshmerga forces advance in the east of Mosul to attack Islamic State militants in Mosul, Iraq. Photograph: Thaier Al-Sudani/Reuters
"It's quite clear Daesh (Islamic State) has started to use civilians as human shields by allowing families to stay in buildings likely to be targeted by air strikes," Abu Mahir, who lives near the city's university told Reuters.
The battle, which began Monday, has so far focused on the villages surrounding Iraq's second-largest city, most of which are traditionally Kurdish.
Pentagon spokesman Navy Captain Jeff Davis said IS had for weeks kept Mosul's estimated population of 1.5 million from escaping, with the start of the offensive offering them no respite.
United Nations spokesman Stephane Dujarric said an estimated 200,000 people are expected to be displaced in the first weeks of the offensive, growing to as many as one million under a worst-case scenario.
For now at least, Iraqi authorities and the US-led coalition want civilians to stay put, fearing they will be executed if they are caught leaving.
The International Organisation for Migration said Islamic State may use tens of thousands of residents as human shields to hold onto their last city stronghold in Iraq.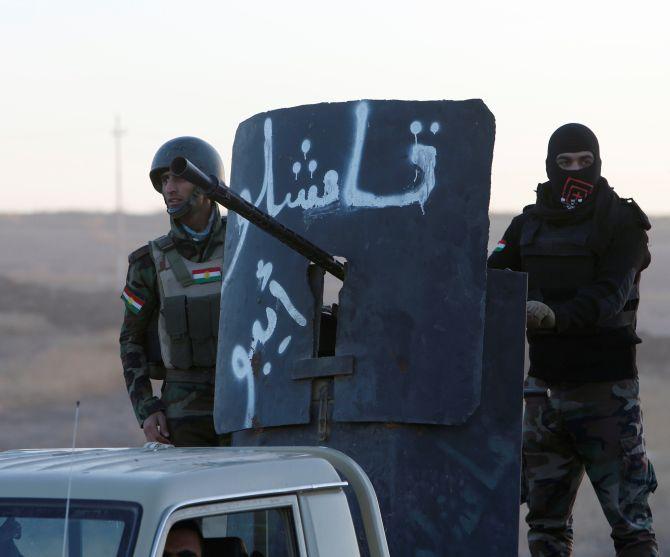 IMAGE: The offensive began on Monday with US President Barack Obama saying it would be a difficult fight but Islamic State "will be defeated in Mosul". Photograph: Azad Lashkari/Reuters
The IOM said there was a likelihood of chemical attacks by the jihadists, who had used such weapons previously against Iraqi Kurdish forces.
Iraqi Prime Minister Haider al-Abadi said safe routes had been secured for civilians who wanted to leave Mosul and it was the duty of the US.-led coalition to prevent Islamic State fighters from escaping into nearby Syria.
US President Barack Obama said it would be a difficult fight but Islamic State "will be defeated in Mosul".
"I am confident that we can succeed, although it is going to be a tough fight and a difficult fight. It is Iraqis who are doing the fighting. They are performing effectively and bravely and taking on significant casualties.
"There will be ups and downs in this process, but my expectation is that ultimately it will be successful," he said.