This is the first time after Nitish Kumar dumped the BJP in August 2022 that violence has broken out across the state, reports M I Khan.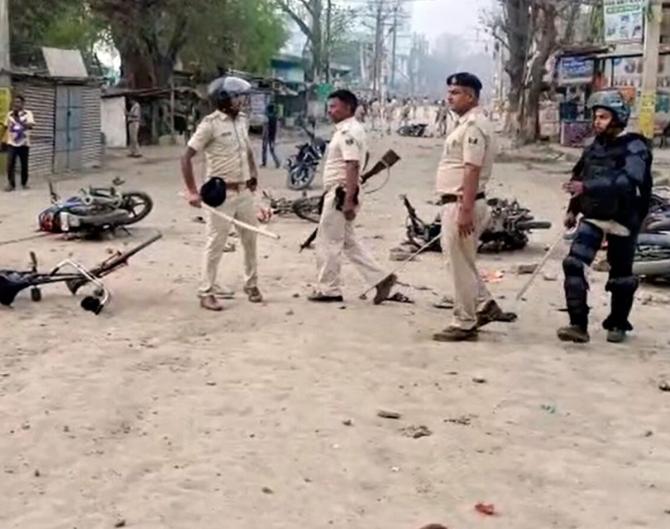 Does Bihar Chief Minister Nitish Kumar know the people behind the sudden communal disturbances in the state, or is he seeking to downplay his government's failure to control the volatile situation?
The question arises after Kumar's claim that it seems the communal incidents during Ram Navami procession in the state were deliberately created by 'some people'.
'We know that some people were indulging in mischief and hell-bent on disrupting communal harmony. We will not spare them,' Kumar told the media on Saturday.
The truth may be revealed in the coming days if the government takes action against those involved in the violence -- especially since Kumar's home district Nalanda faced the brunt of communal tension.
This is the first time after Kumar dumped the Bharatiya Janata Party and joined hands with the Mahagathbandhan to form a government in August 2022 that such incidents have happened in the state.
Following the communal violence in Sasaram, senior BJP leader and Union Home Minister Amit Shah's visit to address a public meeting on April 2 there was cancelled. Shah instead addressed a public meeting in Nawada district.
Senior BJP leader Sushil Kumar Modi said the communal disturbance in Sasaram was created to foment trouble ahead of Shah's visit and that Kumar's government failed to check the attack on Ram Navami processions.
Communal tension gripped parts of half a dozen districts in Bihar on Sunday following violent clashes between two communities over a minor dispute during the Ram Navami Sobha Yatra Friday evening.
As per reports, communal disturbances were reported in Rohtas, Nalanda, Bhagalpur, Gaya, Munger and Muzaffarpur districts.
At least one person (a 16-year-old boy) died on the way to hospital after being hit by a bullet and over three dozen people were injured in communal clashes in the state.
Some houses were attacked, and shops were ransacked and looted allegedly by rioters from both sides, who also torched vehicles including motorcycles and buses.
Incidents of stone pelting, throwing of crude bombs, and firing were also reported in the state.
Till Friday morning, everything was peaceful in the state, but violent clashes between two communities first took place in Sasaram, the district headquarters of Rohtas, followed by clashes in Biharsharif, the district headquarters of Nalanda on Friday evening and later on Friday night.
Fresh violence took place on Saturday as well in both towns.
Six people were injured in a bomb explosion in a hut near a mosque in Sasaram.
"A minor boy succumbed to bullet injuries in Biharsharif on Saturday night and another middle-aged man was critically injured after a bullet hit him during fresh violence. Several others were also injured in stone pelting, " Nalanda Superintendent of Police Ashok Mishra told Rediff.com over the telephone.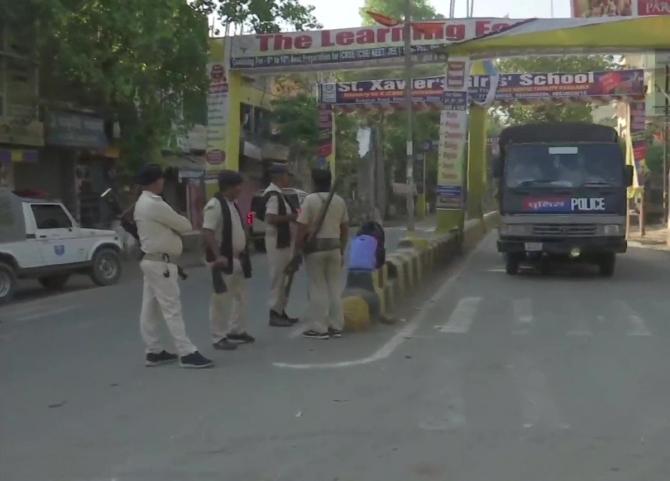 With fresh violence reported and rumours spreading fast amid tension, the state government imposed Section 144 of the Criminal Procedure Code in Sasaram and Biharsharif.
The administration also suspended internet service in both towns and security forces have been heavily deployed.
Most of the markets, shops and educational institutions remained closed since Friday in both towns and roads and narrow streets were deserted after the local police appealed to people to remain indoors to ensure peace.
The government had deployed additional security forces in Chakand block in Gaya and Naugachia town in Bhagalpur following communal tension after minor clashes between two communities in connection with a Ram Navami procession on Friday.
However, communal clashes took place in Munger and Muzaffarpur on Saturday over a Ram Navami procession.
The police have arrested more than 125 people allegedly involved in communal trouble, including pelting stones, attacking and looting shops and torching vehicles in six districts.
The state government has deployed 10 companies of paramilitary forces in the disturbed areas to control the situation.
The ruling Janata Dal-United, Rashtriya Janata Dal and Left parties leaders have blamed the BJP for the incidents ahead of Shah's visit.
However, RJD leader and Deputy Chief Minister Tejashwi Yadav, who is camping in Delhi in connection with family engagements, has not yet rushed to Bihar despite the communal tension at several places.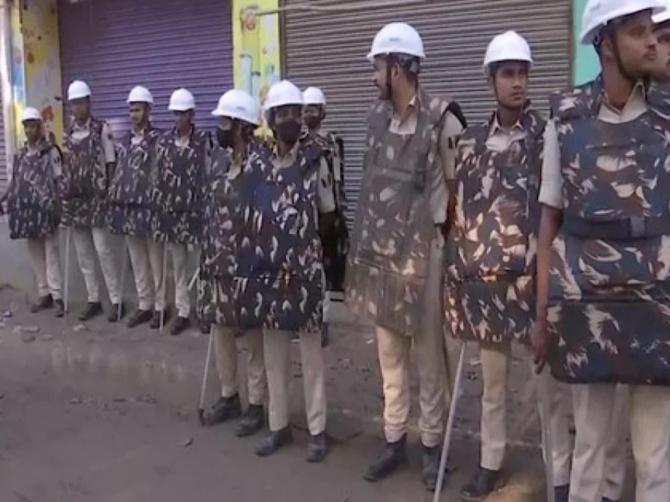 According to reports from Sasaram, the district headquarters of Rohtas, situated at a distance of about 150 km from Patna, the trouble began on Thursday night in Sahajlal locality during a Ram Navami procession, when locals objected to some youth parking their motorcycles and raising slogans.
After the procession moved ahead, some residents reportedly damaged some motorcycles and beat up two or three youth returning from the procession. The police immediately intervened and controlled the situation by talking to both communities.
However, on Friday, angry over the previous night's incident, some unidentified youth took to the streets and started pelting stones and attacking people at several places in the town.
This was followed by clashes between the two communities in which over a dozen people were injured, including two police officials.
As per reports, miscreants set ablaze a few houses, vehicles were torched and crude bombs were thrown at some houses.
Sasaram police officials refuted reports that some Hindus fled to safer places on Saturday after the communal tension.
This led senior BJP leader and Union Minister Giriraj Singh to accuse Kumar of failing to provide safety to Hindus despite voting for his party the JD-U.
In Biharsharif, the violent clashes took place after a dispute over the route of Ram Navami procession and loud music on Friday evening.
After that, over 12 vehicles were torched, and firing was resorted to in which some people sustained bullet injuries, while over one dozen were injured in stone-pelting.
Shops including an electronic showroom were ransacked in Biharsharif.
A senior police official at the police headquarters in Patna said that despite the tension, the situation is under control, additional security forces deployed, and the administration was fully alert to maintain peace.
Home Minister Shah spoke to Governor Rajendra Vishwanath Arlekar about the communal disturbances and directed him to deal strictly with the rioters.
Feature Presentation: Rajesh Alva/Rediff.com