Islamic State militants have blown up the Arch of Triumph, a historic monument in the 2,000-year-old Roman city of Palmyra in Syria.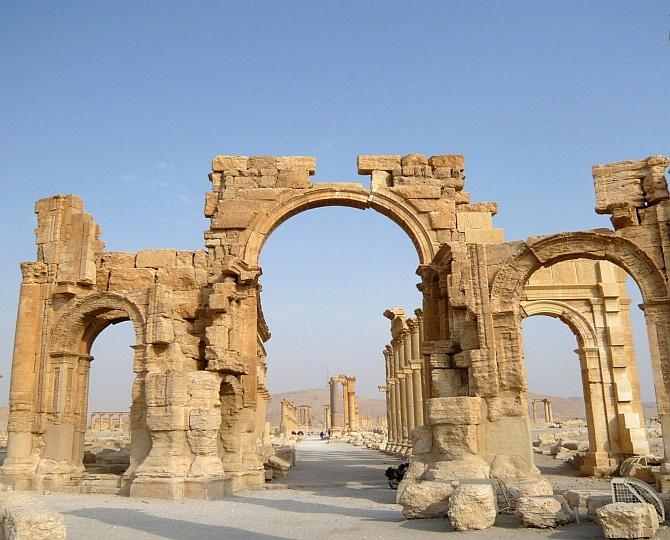 Syria's antiquities chief Maamoun Abdulkarim said on Sunday that sources in Palmyra had confirmed that the Arch of Triumph, a jewel in the exquisite collection of ruins in the city, had been blown up.
After the IS captured Palmyra from the government forces in May 2015, they have mined out other monuments and historic buildings. They also blew up temples at the Roman-era UNESCO world heritage site, terming them sacrilegious.
"It is as though there is a curse that has befallen this city and I expect only news that will shock us. If the city remains in their hands, it is doomed," said Abdulkarim.
"It is now wanton destruction… their acts of vengeance are no longer ideologically driven because they are now blowing up buildings with no religious meaning," he added.
In July, Abdelkarim had said that the group had destroyed the Lion of Al-lat, a 2,000-year-old statue in Palmyra.
He called the 10ft statue, which weighed 15 tonnes, a unique piece, and said its destruction was the "most serious crime they have committed against Palmyra's heritage".
Satellite images released in September showed that the IS had also destroyed the temple of Bel.
After it emerged that the IS had also destroyed the temple of Baal Shamin, which was started in AD17 and expanded around a century later, UNESCO chief Irina Bokova said that its actions since taking the city from government forces amounted to a war crime.
"This destruction is a new war crime and an immense loss for the Syrian people and for humanity. They are killing people and destroying sites, but cannot silence history and will ultimately fail to erase this great culture from the memory of the world," she said in a statement.