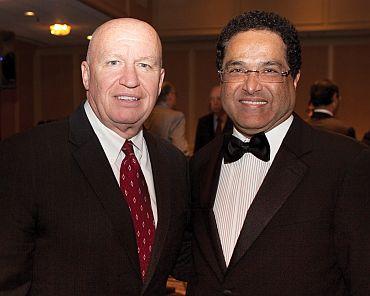 Indian American gastroenterologist and hepatologist, Dr Guru Nath Reddy has been elected president of the Harris County Medical Society in Houston, Texas -- the largest county medical society in the United States.

Reddy, 54, an alumnus of the Osmania Medical College in Hyderabad, is the HCMS's 110th president. He is president of the Digestive and Liver Disease Consultants Group, medical director of North Houston Endoscopy & Surgery, and a clinical assistant professor at the Baylor College of Medicine.

Reddy told rediff.com that he was "both proud and honoured to be installed as the first physician of Asian and Indian origin to receive the highest honour of the largest medical society in Texas and in the country."

He said he had three top priorities in his new job.



"I have asked for a collaborative framework of practice for the physicians in Harris County by providing high quality health care at a lower cost, a goal that is not only achievable but will become an expectation with moving times," he said.

He plans to call major medical education institutes in the county "to work with practicing physicians in the community to develop common ground rules of engagement and collaboration." He has also asked corporate hospitals "to work within a framework of ethical rules of engagement."

His second objective is to help society member physicians get the education and information

to help them use electronic health records and information technology. He pointed out that in 2000, Digestive and Liver Disease Consultants was one of the first medical practices in Texas to convert to a paperless office system.

His third priority is to perfect liability reform in Texas and to work closely with the Texas Medical Board towards that end.

Hyderabad-born Reddy moved to the US in 1983 to attend the Wayne State University School of Medicine in Detroit, Michigan. He then specialised in gastroenterology, liver disease and nutrition at the Baylor College of Medicine in the Texas Medical Centre.

Subsequently, he founded DLDC, one of the largest private gastroenterology groups in Houston. He has been voted one of 'Houston's Top Docs' (recognised in Top Docs Texas magazine) for six consecutive years 2006-2011, and also featured in Newsweek's (June 2010) 'Best Doctors in Texas.'

He is also recognised as one of 'America's Top Physicians' by the Consumers Research Council of America's 2006 edition of America's Top Physicians.

He was the first appointed chairman of the International Medical Graduates section of the Texas Medical Association in 1995 and served in this capacity for five years. During his term, he pioneered several critical initiatives for IMG physicians, including revision of licensing requirements by the Texas Medical Board, managed care credentialing and residency programmes.

Reddy served as the president of the Indian Doctors Association in Houston and also served as co-convener of the American Association of Physicians of Indian Origin convention in Houston in 2005.

Image: Dr Guru Nath Reddy (Right) with US Congressman Kevin Brady