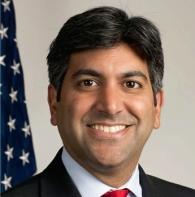 Indian American and former White House tech czar Aneesh Chopra has lost the Democratic primary elections for the powerful post of Lieutenant Governor in Virginia.
The former Chief Technology Officer of United States President Barack Obama, Chopra lost to State Senator Ralph Northam in the Democratic primaries held yesterday. Northam received nearly 54 per cent of the total votes polled as compared to 46 per cent by Chopra.
"I want to congratulate Senator Ralph Northam on his victory tonight in the Democratic Primary. Senator Northam and his staff should be proud of their campaign," Chopra said in a statement after the elections were over.
"While this was not the result that we hoped for tonight -- I look forward to coming together to ensure the Democratic ticket wins a clean sweep in November. The work to bring fairness, equality and opportunity to Virginia continues," said Chopra.
If elected, he would have been the first Indian American to be elected to the top post in Virginia.
Born as the son of immigrants in Trenton, New Jersey, Chopra has spent his life focusing on education and innovation.
Chopra attended Johns Hopkins University and then the Kennedy School of Government at Harvard. Given his talent, he was tapped by Virginia Governor Tim Kaine as his secretary of technology. In 2009, US President Barack Obama appointed him as the nation's first Chief Technology Officer.
In this role, he was charged with promoting innovation to address the nation's most urgent priorities -- from creating jobs to reducing health care costs and keeping it secure.
Upon his departure to run for office, President Obama said, "His legacy of leadership and innovation will benefit Americans for years to come and I thank him for his outstanding service".