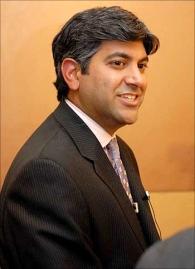 Indian American ex-White House tech czar Aneesh Chopra has received backing from the Richmond city mayor in his bid for Virginia's lieutenant governor.
Chopra, one of two Democrats in the June 11 Democratic primary for the post of the lieutenant governor of Virginia has started his campaign, with Richmond Mayor Dwight C Jones is urging voters in automated calls to vote for him
"I am supporting Aneesh because as a former resident, Aneesh knows the wonderful things our city has to offer and is committed to making sure that we protect the James River, create jobs to get Richmonders back to work, and make sure that all of our children have an equal opportunity to succeed," Jones said in the message.
Last month Jones had endorsed Chopra, 39, a former technology secretary for Virginia and United States chief technology officer under President Barack Obama, the Richmond Times Despatch reported.

"I know that Aneesh shares my vision for creating jobs and building a sustainable economy though investments in education and workforce development. I can appreciate his commitment to building an economy that invests in the jobs of the future," Jones said in a statement.
Chopra left the White House last year to run for lieutenant governor. Upon Chopra's departure, Obama said his "legacy of leadership and innovation will benefit Americans for years to come."