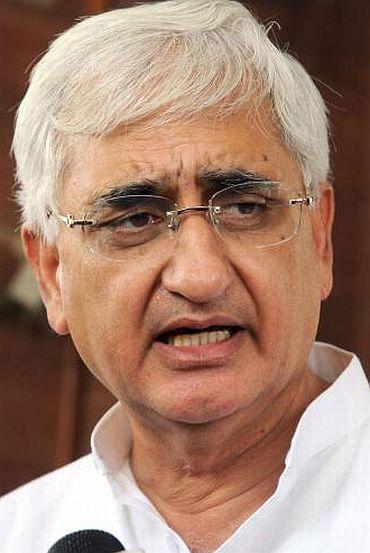 As reports filtered in about the United States and the United Kingdom finalising plans for a limited military strike in Syria, External Affairs Minister Salman Khurshid said India is not in favour of an external intervention but would go along with the decision of the United Nations.
Khurshid told rediff.com that India has always taken a strong position on the developments in Syria. "We are deeply distressed at the continuing violence and we have urged both sides on both sides repeatedly very firmly that violence must stop," he said, but added that India does not support the use of chemical weapons.
"As far as chemical weapons are concerned you know how strong we feel about an issue of such a humanitarian nature," he maintained.
Reiterating India's position on the fast-paced developments in Syria, Khurshid said, "We believe external intervention is not the way to resolve this issue but we also understand that there is a sense of exasperation, a sense that there is no light at the end of the tunnel ... we understand that, but still some responsibility has to be shown in dealing with what is an extremely explosive and difficult situation."
Asked if India would support a military strike against Syria if it does take place, the external affairs minister said India has constantly said there should be no external intervention but "when it happens to suddenly say we support it is not going to be that easy."
However, he added, that developments of this nature have to be justified and it is India's understanding that efforts are being made to justify it. According to Khurshid, the real issue is whether the concerned parties will be able to persuade the UN to intervene.
"If the UN intervenes, we have no problem; if the Security Council takes a view we have no problem," he underlined but added that problems arise when parallel to the UN efforts, an independent attempt is made to intervene.
"History tells us that has not really helped. We will be very cautious in advising against it but let's see how things pan out," he added. British Prime Minister David Cameron and US President Barack Obama spoke on the phone on Wednesday to discuss the option of a military strike against Bashar al-Assad's regime in Syria for the use of chemical weapons near Damascus last week.
The two world leaders are, however, under pressure not to take hasty decision in this matter with UN secretary general Ban Ki-moon saying that they should await the report of the UN inspectors who are investigating the veracity of the reports about the chemical weapons attack.
India's concerns about the world developments on Syria are understandable. The Assad regime has supported India on several issues, ranging from Kashmir to its quest for a United Nations Security Council seat.
Moreover, India exports oil from Syria. With the rupee on a downslide, India is understandably concerned about its oil import bill which would shoot up if the oil prices continue the current upward trend. The situation will only worsen in case of a military intervention.