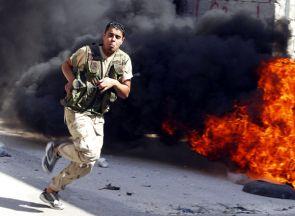 Asserting that chemical weapons were used in Syria by the embattled Assad regime, US Secretary of State John Kerry termed the last week's attack that killed over 300 civilians a "moral obscenity" that should shock the conscience of the world.
While President Barack Obama is soon expected to make an informed decision, Kerry's remarks came even as a team of UN investigators on ground in Syria were gathering evidences, collecting samples and preparing report in this regard.
"While investigators are gathering additional evidence on the ground, our understanding of what has already happened in Syria is grounded in facts, informed by conscience and guided by common sense.
The reported number of victims, the reported symptoms of those who were killed or injured, the firsthand accounts from humanitarian organisations on the ground, like Doctors Without Borders and the Syria Human Rights Commission -- these all strongly indicate that everything these images are already screaming at us is real, that chemical weapons were used in Syria," Kerry told a crowded news conference at the Foggy Bottom headquarters of the US State Department.
"What we saw in Syria last week should shock the conscience of the world. It defies any code of morality. Let me be clear. The indiscriminate slaughter of civilians, the killing of women and children and innocent bystanders by chemical weapons is a moral obscenity. By any standard, it is inexcusable. Despite the excuses and equivocations that some have manufactured, it is undeniable," Kerry said.
He did not take any questions.
"Make no mistake: President Obama believes there must be accountability for those who would use the world's most heinous weapons against the world's most vulnerable people.
Nothing today is more serious, and nothing is receiving more serious scrutiny," he said adding the US including Obama and himself is in touch with its international partners to decide on the next course of action.
"The administration is actively consulting with members of Congress, and we will continue to have these conversations in the days ahead. President Obama has also been in close touch with leaders of our key allies, and the president will be making an informed decision about how to respond to this indiscriminate use of chemical weapons," he said.
The alleged chemical weapons attack on August 21 in Damascus killed more than 300 civilians, including many children. Syrian President Bashar al-Assad has denied launching the attack.
Kerry said on Thursday he had spoken to his Syrian counterpart, during which he made it clear that that if the regime, as he argued, had nothing to hide, then their response should be immediate, immediate transparency, immediate access, not shelling.
Their response needed to be unrestricted and immediate access. Failure to permit that, would tell its own story, he said.
The top American diplomat said the meaning of this attack goes beyond the conflict in Syria itself, and that conflict has already brought so much terrible suffering.
This is about the large-scale, indiscriminate use of weapons that the civilised world long ago decided must never be used at all, a conviction shared even by countries that agree on little else, he said.
"There is a clear reason that the world has banned entirely the use of chemical weapons. There is a reason the international community has set a clear standard and why many countries have taken major steps to eradicate these weapons.
There is a reason why President Obama has made it such a priority to stop the proliferation of these weapons and lock them down where they do exist.
There is a reason why Obama has made clear to the Assad regime that this international norm cannot be violated without consequences," he said.
"And there is a reason why, no matter what you believe about Syria, all peoples and all nations who believe in the cause of our common humanity must stand up to assure that there is accountability for the use of chemical weapons so that it never happens again," he added.
Kerry said the Syrian regime has the capacity to do this with rockets.
"We know that the regime has been determined to clear the opposition from those very places where the attacks took place. And with our own eyes, we have all of us become witnesses," he said.
"We have additional information about this attack, and that information is being compiled and reviewed together with our partners, and we will provide that information in the days ahead. Our sense of basic humanity is offended not only by this cowardly crime, but also by the cynical attempt to cover it up," he said.
"At every turn, the Syrian regime has failed to cooperate with the UN investigation, using it only to stall and to stymie the important effort to bring to light what happened in Damascus in the dead of night.
And as Ban Ki-moon said last week, the UN investigation will not determine who used these chemical weapons, only whether such weapons were used, a judgement that is already clear to the world," he told reporters.