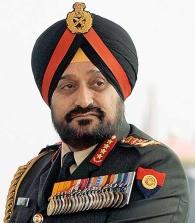 In a warning to Pakistan, Army Chief Gen Bikram Singh on Monday said India would respond in equal measure if Pakistan breaks any rules as he revealed that 10 Pakistani soldiers had been killed in a recent military action.
He rejected the perception that Indian military has not retaliated against the beheading of its soldiers by Pakistani troops last year.
"Let me assure you that action has been taken... If I can invite the attention to the Geo TV report on December 23, which talked of their one officer and nine jawans being killed with 12-13 being wounded. This has happened due to firing of your soldiers on ground. They have done their bit," he said addressing the annual Army Day press conference in New Delhi.
Gen Singh said it is virtually a "mini war at the local level" whenever ceasefire violation takes place on the Line on Control.
"The soldiers are doing a stupendous job. The local units are doing a good job. The soldiers have reacted well and they have reacted well as required," he asserted.
When referred to the repeated ceasefire violations by Pakistan on the LoC, the army chief said, "It depends, if rules are followed by our neighbours, we follow the rules. If rules are broken, then obviously we cannot stick to the rules. Even we are going to break the rules."
At the same time, he said that through retaliation, the "endeavour is not to escalate the situation into operational or strategic arena. It is to deal with the same measure if not more and give a befitting response in a professional manner at place where we are fired upon."
Gen Singh was asked about to comment on the notion among common people that though he had promised retaliation after the beheading of its soldiers in Mendhar sector, no action has so far been taken.
Talking about Jammu and Kashmir, the army chief said there should be no dilution of Armed Forces Special Powers Act in view of the prevailing situation in the region, including the possible terrorist spillover into the Valley after the United States drawdown in Afghanistan.
"We need to look at developments in Afghanistan in 2014 before we can look at perhaps tampering with or diluting the disturbed areas (act). This is in regard to the AFSPA in Jammu and Kashmir," he said.
Gen Singh said it would be prudent to "wait and watch for a while" before taking a call on AFSPA.
"As per military's prespective, (in view of) the situation prevailing in the Valley, I think we should wait for a while to see whether the situation remains the same, worsens or improves. Based on that we should take action," the army chief said.
In a word of caution, he said perhaps there may be a certain amount of spillover from Afghanistan into Jammu and Kashmir. "There are certain inputs alluding to this already. And, therefore, we need to be on guard," he said.
Asked about the statement of Aam Aadmi Party leader Prashant Bhushan that AFSPA should be lifted from Jammu and Kashmir, Gen Singh said as a matter of principle, "I never comment on statements of political leaders....Our national perspective is that it is our country, Jammu and Kashmir is our state and nobody should have any doubts about it. We are implementing the national strategy and the army is playing its role as part of that."
Bhushan has batted for the lifting of AFSPA, saying it gave the army immunity in cases of human rights violation while causing alienation amongst the people. The AAP has dissociated itself from his remarks.
Image: Army chief Bikram Singh