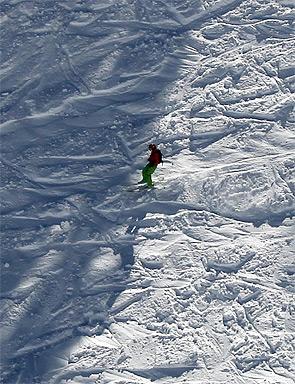 Since January, at least 190 cases of ceasefire violations by the Pakistan Army have been reported from the Line of Control in Jammu and Kashmir.
The Pakistan government and army chief General Parvez Kayani continue to deny any role in breaching the ceasefire. But the alarming frequency of the violations indicates that Islamabad is up to some major mischief.
A report put together by the Military Intelligence, with the help of Indian security agencies, observes that a number of terrorists are waiting to cross over to India.
A ceasefire violation is a sure-fire way of distracting Indian soldiers stationed at LoC while terrorists slip into Indian territory.
Ceasefire violations, which have been taking place sporadically for years, are Islamabad's method of covering up infiltration bids.
But the number of ceasefire violations this year is much higher.
In 1999, when India and Pakistan faced off at Kargil, nearly 120 violations had been reported.
Security agencies fear that this year, Pakistan is planning a major operation to regain lost ground in Kashmir.
Security agencies believe nearly 800 terrorists from the Jaish-e-Mohammad and the Lashkar-e-Tayiba are waiting for an opportunity to enter India and cause mayhem.
The 800 terrorists, currently biding their time at makeshift base camps at LoC, have been trained at the Pir Panjal camp in Pakistan.
Islamabad wants all of them to enter India and start work on their respective missions before the crippling winter sets in at Kashmir Valley.
Every year, nearly 1,000 terrorists are trained in Pakistan and then sent to India, according to intelligence officials.
While most of these terrorists try to infiltrate Kashmiri separatist outfits, some of them are sent to other parts of India to perpetrate disruptive activities.
Indian security agencies are not apprehensive about any immediate acts of terror, as they believe that these terrorists have been kept on standby till they receive further orders from their handlers in Pakistan.
Image: A lone skier skies down a slope in Gulmarg, west of Srinagar ' Photograph: Danish Ismail/Reuters