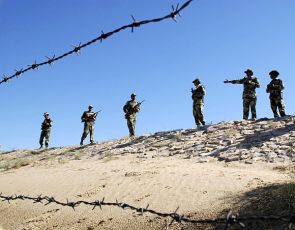 Beating of war drums, would further accord primacy to the army in Pakistan. A better approach would be to continue the talks for normalisation of trade relations, while giving the Indian forces autonomy to strike at militant camps across the LoC, says Alok Bansal
The attack by armed militants on Indian troops patrolling at the Line of Control in the Poonch sector escorted by Pakistani troops or by men in Pakistani army uniforms has created serious tensions between India and Pakistan.
Even if one were to grant Pakistani army the benefit of doubt and accept that the terrorists were escorted by men in Pakistan army's uniform and not Pakistani soldiers themselves, it is inconceivable that an attack like this can take place without some sort of connivance from the troops on the border. Further, if one were to assume that the officers and soldiers at the LoC were acting on their own without any instructions from the top; it does show a dangerous trend of growing radicalisation in the Pakistani armed forces, a fact that has not been analysed adequately.
If a local commander feels closer to the radical outfits than his superiors than there is a serious cause of worry. It appears as if Pakistani authorities do not want to take action against the erring officers posted along the LoC, as it would amount to accepting the Indian claims of cross LoC raids. This in turn emboldens the officers to repeat such misadventures again and again.
There are clear signs of growing empathy for the radical outfits within the armed forces of Pakistan. There have been many cases, where armed forces personnel including officers, have left the force to join various radical outfits including the Lashkar-e-Tayiba, the Tehrik-e-Taliban Pakistan and Al Qaeda. Adnan Rasheed, a former air force official, who was sentenced to death and was freed along with 400 other prisoners by the TTP in a daring jail break at Bannu, is one of their key strategists.
These personnel continue to maintain relations with their colleagues in uniform and consequently, there are thousands of sympathisers of various radical outfits in the Pakistani armed forces today. Every single attack on an armed forces installation in Pakistan had a collaborator from inside. Most of these outfits have or had close relations with the Pakistani army and the Inter Services Intelligence at one time or the other.
It therefore suits the Pakistani army to use these linkages to divert such outfits towards Kashmir, so as to prevent them from attacking them within Pakistan. As the recruiting base for all these outfits is the radicalised madrassa-educated youth, who are encouraged to join the outfits, which are still allied with the security forces.
The attack has also exposed the limits of the elected representatives as far as Pakistan is concerned. Despite his genuine desire for peace, Nawaz Sharif, the newly elected Pakistani prime minister has not been able to stop cross LoC attacks. At this point of time he is still in the process of consolidating his position and is on a weak wicket especially vis-a vis an army chief who has held the post for last six years.
It appears as if certain elements from the religious right and the security establishment do not want him to go ahead with the process of normalisation of relations with India. They fear that if the process of bilateral trade gets liberalised, it will create too stake holders for peace in Pakistan and hence they want to derail the process, before it starts. Unfortunately, Sharif's own religious convictions and rightist views prevent him from taking any worthwhile action against religious political parties and the madaris that eventually provide recruits for these dreaded radical outfits.
The outfits keep metamorphosing into newer entities to bypass occasional half-hearted bans imposed on them. Newspaper reports clearly indicate that many front organisations for various banned outfits are going about their fund collection drive during the holy month of Ramzan with impunity. Sharif needs to take effective steps to deradicalise Pakistani society by amending the educational curriculum, but that cannot be done while pandering to the obscurantist forces within the state.
The attack has put the Indian government in a quandary, as frequent attacks dampen public sentiment for normalcy of relations with Pakistan. Many analysts are already urging the government to call off the talks with Pakistan. However, it does not serve any purpose as it would not in any way hurt the Pakistan army or its collaborators, but will only weaken the political leadership in Pakistan and marginalise those who espouse the cause of good relations with India.
Beating of war drums, would further accord primacy to the army in Pakistan as had happened after the 26/11 Mumbai terror attacks. A better approach would be to continue the talks for normalisation of trade relations, while giving the Indian forces autonomy to strike at militant camps across the LoC. As the Pakistani forces are either unwilling or incapable of controlling them, India would be perfectly justified in targeting these cases and taking a leaf out of their Pakistani counterparts, it would be preferable to maintain deniability.
For too long has India been talking of retaliation without doing so, this only strengthens the anti-India lobby and projects India as a weak state. It is therefore prudent to continue talking peace while retaliating with force in case of any misadventure by Pakistan. This will not only deter the Pakistan army and its radical collaborators from future misadventures, but will also allow those interested in peace to forge ahead. Improved trade relations could make an ordinary Pakistani a stakeholder in peace and improved relations with India, while marginalising the radical elements.
Alok Bansal is executive director of New Delhi-based South Asian Institute for Strategic Affairs.