Nearly 14.3 million people, including children, are 'trapped' in modern-day slavery in India, which tops a global index of people under bondage across the world with an estimated 35.8 million people enslaved, a new research said on Monday. The Global Slavery Index 2014, published by the Walk Free Foundation in Perth in Australia, said India and Pakistan account for 45 per cent of the global total. The report estimates that over 23.5 million people in Asia are living in modern-day slavery.
This is equivalent to almost two-thirds of the global total number of people enslaved.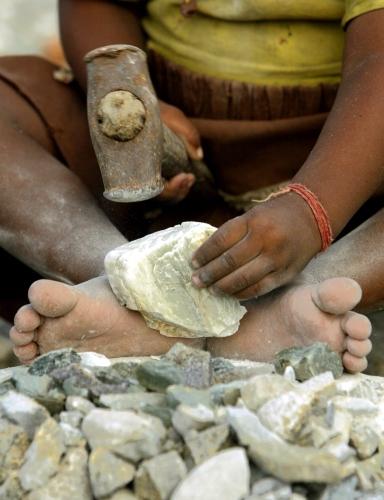 Five-year-old Rina breaks stones in Siliguri in this picture taken on September 2, 2004. Photograph: Reuters
"Of these, over 14.2 million are in India and over 2.05 million are in Pakistan which demonstrate the highest prevalence of modern slavery in Asia (1.141 per cent and 1.13 per cent of their populations respectively). Together these two alone represent 45 per cent of the global total," it said. In South Asia, these countries are followed in prevalence by Nepal (0.823 per cent of the population, 228,700 people), Bangladesh (0.435 per cent, 680,900 people), Afghanistan (0.435 per cent, 132,800 people) and Sri Lanka (0.359 per cent, 73,600 people).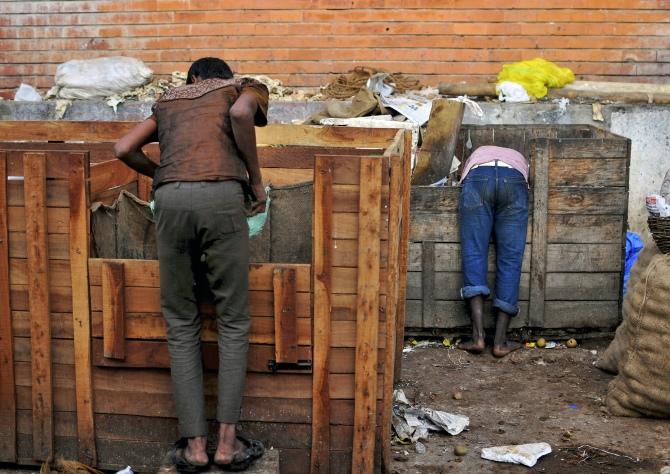 Boys scavenge for leftover fruits from delivery containers outside a fruit market in Bangalore. Photograph: Abhishek N Chinnappa/Reuters
"In terms of absolute numbers, India remains top of the list with an estimated 14.29 million enslaved people followed by China (3.24m), Pakistan (2.06m), Uzbekistan (1.2m, new to the top five), and Russia (1.05m). The report said that the people are trapped in slavery through human trafficking, forced labour, debt bondage, forced or servile marriage or commercial sexual exploitation.
"Together these account for 61 per cent of the world's modern slavery or nearly 22 million people," it said. The research report also said that "an estimated 35.8 million men, women and children around the world are today trapped in modern slavery, just over 20 per cent more than previously estimated," the report said. The Index was created in consultation with a panel of experts from international organisations, think tanks and academic institutions and also said that slavery exists in each of the 167 countries included in it. The research said countries with the biggest challenges were taking important steps to tackle the problem.
"India for example has strengthened its criminal justice framework through legislative amendments and has established 215 Anti-Human Trafficking Police Units. Much more needs to be done," it said. Chairman of the Foundation, Andrew Forrest said there is an assumption that slavery is an issue from a bygone era or that it only exists in countries ravaged by war and poverty.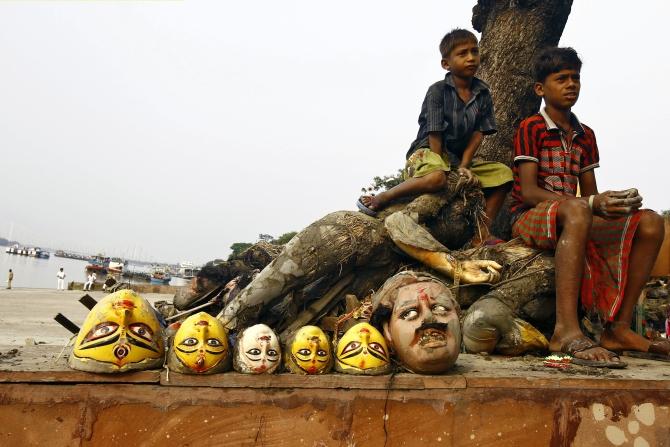 Boys sit next to clay idols of the Hindu goddesses and a demon after idols of Durga were immersed into the Ganges river in Kolkata in this photograph taken on October 3, 2014. Photograph: Rupak De Chowdhuri/Reuters
"The first step in eradicating slavery is to measure it. And with that critical information, we must all come together -- governments, businesses and civil society -- to finally bring an end to the most severe form of exploitation," he said.
The report said Mauritania has the highest proportion (prevalence) of its population in modern slavery at 4 per cent, while Iceland and Luxembourg have the lowest number of people enslaved in both prevalence and in absolute numbers, estimated at less than 100 each, closely followed by Ireland with under 300. It said countries identified as leading the fight to end modern slavery include Netherlands, Sweden, the United States, Australia, Switzerland, Ireland, Norway, the United Kingdom, Georgia and Austria.
Those countries with the weakest responses to modern slavery in 2014 are North Korea, Iran, Syria, Eritrea, the Central African Republic, Libya, Equatorial Guinea, Uzbekistan, Republic of the Congo and Iraq. The Walk Free Foundation is a global organisation with a mission to end modern slavery in our generation by mobilising a global activist movement, generating the highest quality research, enlisting business and raising unprecedented levels of capital to drive change in those countries.