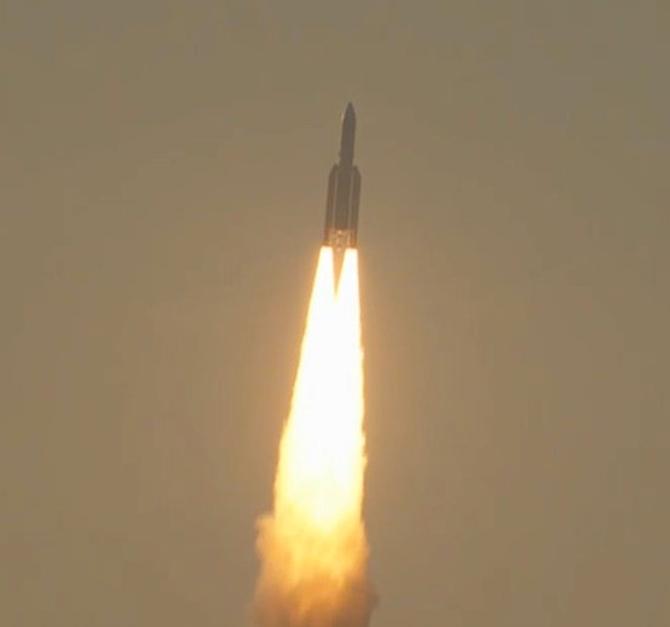 Boosting telecommunication services, India's latest communication satellite GSAT-18 was on Thursday launched successfully by a heavy duty rocket of Arianespace from the spaceport of Kourou in French Guiana.
Television, telecommunication, VSAT and digital satellite news gathering are a few of the services that GSAT 18 will support in the coming days.
After a day's delay of the launch, the European launcher Ariane-5 VA-231 blasted off around 2 am and lofted the high power GSAT-18 into space shortly after orbiting its riding mate Sky Muster II satellite for Australian operator nbn (National Broadband Network) in a little more than 32 minute flawless flight.
The launch was originally scheduled for on Wednesday, but deferred by 24 hours owing to unfavourable weather conditions at Kourou, a French territory located in northeastern coast of South America.
GSAT-18 that strengthens Indian Space Research Organisation's current fleet of 14 operational telecom satellites, was launched into a Geosynchronous Transfer Orbit with the Master Control Facility at Hassan in Karnataka taking over the command and control of the spacecraft immediately after it separated from the launch vehicle.
Preliminary health checks of the satellite revealed its "normal" health, Bengaluru headquartered ISRO said.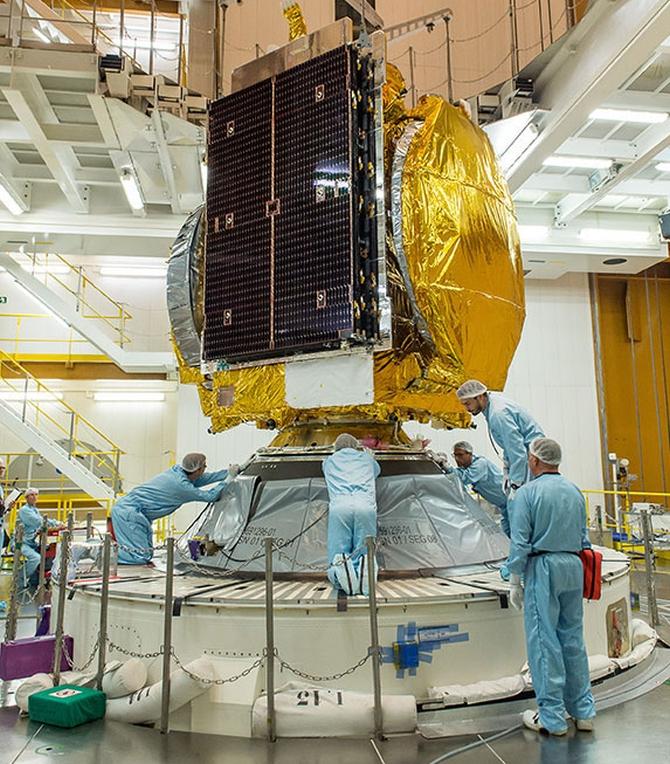 "After a flight of 32 minutes and 28 seconds, GSAT-18 separated from the Ariane 5 upper stage in an elliptical Geosynchronous Transfer Orbit with a perigee (nearest point to Earth) of 251.7 km and an apogee (farthest point to Earth) of 35,888 km, inclined at an angle of six degree to the equator," ISRO said.
President Pranab Mukherjee and Prime Minster Narendra Modi congratulated ISRO on the successful launch of GSAT 18.
"Congratulations to @isro for successfully launching the communication satellite, GSAT-18. This is another milestone for our space programme," Modi said in a tweet.
"Hearty congratulations to ISRO on successful launch of communication satellite, GSAT-18 #PresidentMukherjee," the official Twitter handle of President of India said.
Complimenting Arianespace for the "textbook" launch, ISRO Chairman A S Kiran Kumar said, "GSAT 18 is an important satellite for us that will enable the continuity of the vital communication services in our country by replacing the currently ageing satellites."
GSAT-18 is the 20th satellite from ISRO to be launched by the European space agency and the mission is the 280th for Arianespace launcher family.
ISRO, which has been dependent on Ariane-5 rocket for carrying its heavier satellites, is developing GSLV Mk III for this purpose.
Weighing 3,404 kg at lift-off, GSAT-18 carries 48 communication transponders to provide services in Normal C-band, Upper Extended C-band and Ku-bands of the frequency spectrum.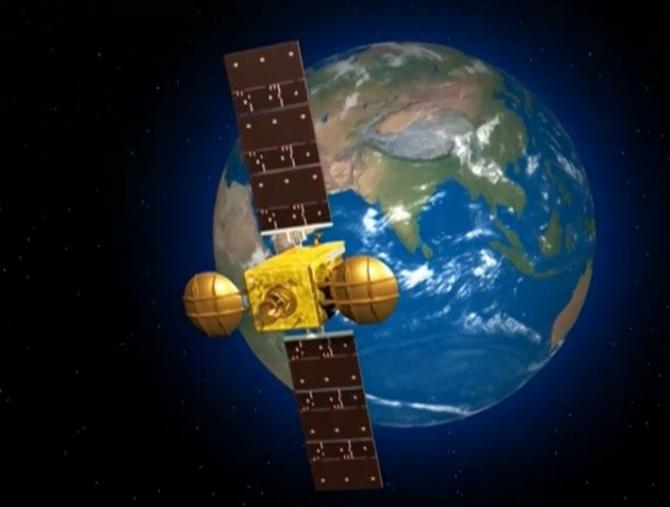 The ISRO chief, who watched the launch from the mission control centre, left shortly after lift-off, and his message was read out later by one of his senior colleagues.
Designed to provide continuity of services on operational satellites in C-band, Extended C-band and Ku-bands, GSAT-18 with a mission life of about 15 years, carries Ku-band beacon as well to help in accurately pointing ground antennas towards the satellite.
ISRO said in the coming days, orbit raising manoeuvres will be performed to place GSAT-18 satellite in the Geostationary Orbit (36,000 km above the equator) by using the satellite's propulsion system in steps.
Two solar arrays and both the antenna reflectors of GSAT-18 will be deployed after the orbit raising, it said, adding, the satellite will be positioned at 74 deg East longitude in the geostationary orbit and will be co-located with the Indian operational geostationary satellites.
Post this, ISRO will experimentally turn on the communication payloads of GSAT-18, and after the successful completion of all the in-orbit tests, the satellite will be ready for operational use.
GSAT-18s co-passenger on the Arianespace rocket, Sky Muster II is built by Space Systems Loral in Palo Alto, California. It is aimed at bridging the digital divide, especially in the rural and isolated regions of Australia.
ISRO's two more satellites GSAT 17 and GSAT 11 will be launched by Arianespace during early next year.
"Realisation of both these satellites is in advanced stage," Kumar said.
"While GSAT 17 is an important satellite for replacing our satellites, GSAT 11 will be the first generation of high-throughput satellite of ISRO. Both of these upcoming launches are crucial for the Indian Space Programme," he added.
ISRO has been entrusting Arianespace with its satellites for over 35 years, starting with the launch by Ariane 1 of the APPLE (Ariane Passenger Payload Experiment) experimental satellite in 1981.