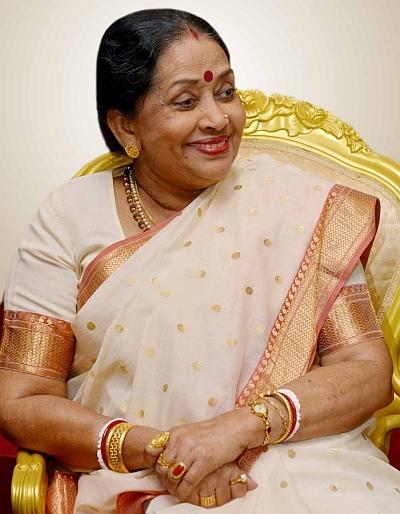 President Pranab Mukherjee's wife Suvra Mukherjee, who has been ailing for some time, passed away on Tuesday. She was 74.
The First Lady, who remained hospitalised for 11 days, breathed her last at 10.51 am at the Army Research and ReferralHospital in New Delhi.
"It is informed with deep sorrow that First Lady Smt Suvra Mukherjee passed away this morning (August 18, 2015). She left for her heavenly abode at 1051 am," Rashtrapati Bhawan spokesman Venu Rajamony said in a statement.
Suvra was admitted to the ArmyHospital on August 7 after she complained of breathlessness and discomfort. Since then she was in the Intensive Care Unit.
Besides her husband, Suvra is survived by two sons Abhijit, a Congress MP, and Indrajit and daughter Sharmistha, who unsuccessfully contested the Delhi assembly elections on a Congress ticket.
Mukherjee had cut short his visit to Odisha on August 7 and returned to the national capital after he was informed about his wife's health condition.
Seven Things You Must Know About Suvra Mukherjee
1) She was born in Jessore (now in Bangladesh) on September 17, 1940, and had migrated to Kolkata at the age of 10. Suvra, a graduate, was an ardent fan of India's national poet Gurudev Rabindranath Tagore.
2) She was a vocalist of Rabindra Sangeet and performed in the poet's dance-dramas for long years not only in different parts of India, but also in Europe, Asia and Africa.
3) Suvra founded the 'Geetanjali Troupe', whose mission is to propagate Rabindranath Tagore's philosophy as expressed through his songs and dance-dramas. She was the guiding force behind all productions of the Troupe.
4) Besides her love for music, Surva was also a highly talented painter who had many group and solo exhibitions to her credit. She considered her mother who was herself a painter as the source of her creative inspiration and her works won critical acclaim.
5) She has written two books -- Chokher Aloey, which is a personal account of her close interaction with the then Prime Minister Indira Gandhi, and Chena Achenai Chin, a travelogue recounting her visit to China.
6) Suvra had entered the portals of Rashtrapati Bhawan bringing in her harmonium and a tanpura, gifted by Bengali music maestro D L Roy.
7) Mukherjee got married to Suvra on July 13, 1957. "We are not like today's couples. It's not a lovey-dovey relationship and we don't express our emotions overtly," Suvra was quoted as having said on the eve of the crowning moment of her husband's political career when he assumed the office of President on July 25, 2012.