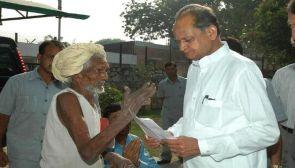 In outgoing Rajasthan Chief Minister Ashok Gehlot's home district Jodhpur, BJP has won nine out of ten assembly constituencies, with Gehlot the only winning candidate of the Congress party.
Gehlot won his Sardarpura constituency by 18,478 votes, a margin up by 3,138 from his previous victory. He beat Shambhu Singh Khetasar of BJP, who secured 59,357 votes against Gehlot's 77,835 votes. It was his fourth consecutive victory since 1999.
This election also sealed the political fate of two prominent families in state politics -- Paras Ram Maderna and Ram Singh Bishnoi.
Following the imprisonment of Mahipal Maderna and Malkhan Singh Bishnoi, Congress had given tickets to Leela Maderna (wife of Mahipal Maderna) from Osian and Amri Devi (mother of Malkhan Singh) from Luni apparently with a view to cash in on the sympathy of the particular castes.
But voters of their respective constituencies have rejected them, wherein Jogaram Patel of BJP registered a victory over Amri Devi with a margin of 35,940 votes.
Patel secured 96,386 votes, highest in the district against 60,446 of Amri Devi.
Likewise, Leela lost to a new face from BJP Bhera Ram Choudhary by 15,396 votes.
Soorya Kanta Vyas from Soorsagar and Kailash Bhansali from JodhpurCity, both the sitting MLAs from BJP, retained the seats by a margin of 20,328 and 14,510, respectively beating new faces of Congress Jaiphu Khan and Suparas Bhandari.
Similarly, the sitting MLAs of BJP Gajendra Singh Khinwsar (Lohawat), Babu Singh (Shergarh), Arjunlal Garg (Bilara) and Kamsa Meghwal (Bhopalgarh) also succeeded in retaining their respective seats.
Garg at Bilara beat Heera Ram Meghwal of Congress and party's district rural president by a margin of 35947.
In previous elections, the Congress had wrested four out of 10 seats in the district.
BJP snatched three seats from the Congress' fold - Osian, Luni and Phalodi. Pabba Ram Bishnoi of BJP won the Phalodi seat beating sitting MLA of Congress OM Joshi by a margin of 35,079 votes.