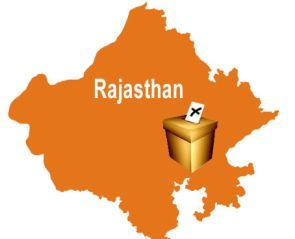 Kin of jailed leaders Mahipal Maderna, Malkhan Singh Bishnoi and Babulal Nagar -- accused in cases like rape and murder -- have found place in the third list of Congress hopefuls for the Assembly elections along with two other party leaders who are facing criminal charges.
Congress third list, released late Saturday night, includes names of 71 candidates for the December 1 assembly polls.

While Maderna and Bishnoi are accused in Bhanwari Devi rape and murder case, Nagar is in jail on charges of rape.
Maderna's wife Leela Maderna will contest from Osian seat, whereas Bishnoi's 80-year-old mother Amri Devi and Nagar's brother Hazari Lal Nagar will try their luck from Luni and Dudu Assembly constituencies.

Besides, party has also fielded two former ministers Ramlal Jat and Bharosi Lal Jatav, who had to step down from Ashok Gehlot cabinet on charges of sexual harassment and involvement in illegal mining respectively.

Jat, who had to step down as minister after allegations of sexual harassment, has been shifted from his present constituency of Mandal to Asind in Bhilwara district, whereas Jatav will contest from Hindaun (SC) seat.

Party has also dropped Parmnavdeep, sitting MLA and wife of ADG (Law and Order) Navdeep Singh, along with five other legislators including Aadram, Rita Chaudhary, Mahaveer Mochi, Roopram Dudi, and Shankar Lal Ahri.

PCC President Chandrabhan, who had lost Assembly polls in 2003 and 2008, has been given ticket from Mandwa.

He replaces Rita Chaudhary, sitting MLA and daughter of former Congress veteran Ram Narayan Chaudhary.

Former BJP leader Govind Ram Meghwal, who joined Congress yesterday, will contest from Khajuwala (SC) seat.

Similarly, sitting MLA Ramesh Meena, who quit BJP and joined the Gehlot government, will be Congress' candidate from Sapotra seat.
Youth Congress leader Meenakashi Chandrawat, who lost in last two elections, will fight against BJP state President Vasundhara Raje from Jhalarapatan seat in Jhalawar district.

Nathdwara seat, from where AICC General Secretary and Rajasthan election campaign head C P Joshi had lost by one vote in 2003, has been given to Devi K Gurjar.
Three other sitting Congress MLAs -- Bina Kak from Sumerpur, Harjiram Burdak from Ladnu, Hemaram Chaudhary from Gudhamalani, and Mamta Sharma from Bundi -- have been renominated by the party. They are also ministers in the Gehlot cabinet.
31 first-timers have also been given poll tickets.
For the 200 seats at stake, both Congress and BJP have announced candidates for 176 seats.