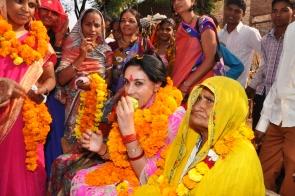 If you thought that the skewed sex ratio in Rajasthan has dampened the spirit of the fairer sex in the desert state, then you are in for a surprise. For, if you browse through the ongoing Rajasthan assembly poll candidate list, you will realise how female candidates are way ahead of their male counterparts, says Shahnawaz Akhtar
With the number of women contesting elections this year shooting up to 168, things look promising for the fairer sex in Rajasthan. With Churu's nomination yet to be finalised, as a candidate passed away soon after filing his papers, there is a probability for the numbers of women candidates to rise.
In 2008, 154 women candidates had contested elections and 28 had become legislators.
But what surprised political pundits more than numbers, is that a mother-daughter duo -- Vimla and Kamini Jindal -- are the richest contestants among the 2,096 candidates that have been fielded in the 199 assembly segments for the ongoing elections.
The mother-daughter duo have assets worth Rs 2,762 crore and Rs 197 crore respectively, and have emerged as the richest candidates fielded in any election format in India.
Vimla, who is contesting elections on a National Unionist Zamindara Party ticket is the wife of party chief B D Agrawal, while Kamini is married to an Indian Police Service officer Gangandeep Singhla, who is posted in Jaipur.
Seventy-eight-year old Amri Devi, mother of arrested legislator Malkhan Singh Bisnoi is contesting as the second-oldest candidate in the assembly polls, while 84-year-old Harji Ram Burdak is the eldest (male) candidate, contesting from Luni on a Congress ticket. Along with Devi, the party also gave a ticket to Leela Maderna, wife of arrested Congress leader Mahipal Maderna.
These are not the only factors; adulation and media attention currently seems to be focused directly on Diya Kumari, the erstwhile princess of Jaipur, who is contesting from Sawai Madhopur.
On Tuesday, the Bharatiya Janata Party's star campaigner and prime ministerial candidate Narendra Modi also addressed a rally in Kumari's assembly segment.
Adding on glamour, charisma and royalty to the elections are the blue blood divas such as Vasundhara Raje, Siddhi Kumari, Kirti Kumari and Rohini Kumari, who hail from feudal backgrounds.
Both the Congress and the BJP have fielded 24 and 26 women candidates respectively for the assembly elections.
However, women activists who are fighting for the cause of fairer sex claim that they haven't seen any major change in the thought process of the political parties.
Renuka Pamecha of Women Rehabilitation Group reacted to the trend,"The true celebration of democracy would be for women when political parties will consider giving 33 per cent reservation in assembly and parliamentary elections for women candidates.
"It would not make much difference by giving tickets to women because of political pressures as it has happened in the case of the Congress giving tickets to the mother and wife of Malkhan Singh and Mahipal Madenra, while the BJP has resorted to fielding royal background female candidates," she added.
Image: BJP candidate from Sawaimadhopur Assembly seat, Diya Kumari