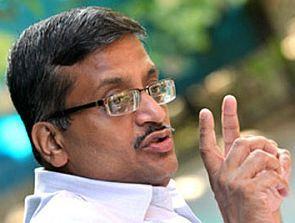 Speculation that whistleblower Indian Administrative Service officer Ashok Khemka may be shifted to the Centre by the Narendra Modi government on Tuesday prompted the Congress to remark that the "association of the Bharatiya Janata Party with many officers and officials is well-known".
Khemka, a 1991-batch officer who had initiated an inquiry into alleged irregularities in land deals of Congress President Sonia Gandhi's son-in-law Robert Varda, currently holds the post of secretary in the Haryana government's department of archives.
Congress spokesperson Randeep Surjewala, however, noted that it is the prerogative of the government to appoint officers and extended best wishes to the National Democratic Alliance government and Khemka for having a "healthy and constructive relationship in the future".
Earlier, reacting to reports that Khemka may be moved to the Centre, Minister of State for Personnel, Jitendra Singh, was non-committal, saying, "We are not commenting on this issue... The placement is part of the natural process of administration. It's not appropriate to attach motives."
Meanwhile, when asked about All India Congress Committee general secretary Madhusudan Mistry being given the important post of an observer for the party at a time when the Congress is still trying to find the causes and fix responsibility for its heavy defeat in Lok Sabha polls, Surjewala said, "Appointment of observers is a continuing exercise in Congress before elections... To single out an individual is perhaps unfair."
He said that as far as the soul-searching process was concerned, it is a continuing exercise being led for the party by senior leader AK Antony.
Surjewala said that Sonia and party vice president Rahul Gandhi will deliberate over the report which Antony submits.
The Congress spokesperson also spoke on the issue of the strikes by Israel in Gaza.
Surjewala said that India had had a consistent stand on this matter since the time of the first prime minister Jawaharlal Nehru. "We have always condemned human rights violations on both sides. India has always stood against any act of terror," he said.
As to reports that the Centre is planning to bring changes in the land acquisition Act, Surjewala said that since the legislation had been passed with the consent of most of the parties, including the BJP, the Congress hopes that any amendment, if any, does not compromise with the provisions for the protection of farmers.

Image: IAS officer Ashok Khemka